Grad Night 2019–Volunteers Needed!
Golfland-Sunsplash to Host Grad Night 2019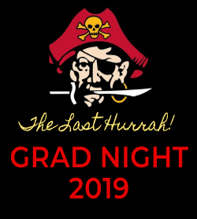 CALLING ALL JHS PARENTS!
Grad Night 2019 is just around the corner! This year it will take place at Golfland Sunsplash in Roseville on May 25, at 10:00 p.m. We need volunteers in many areas, but our immediate needs are volunteers for the following positions:
* Raffle Leads – These volunteers will be responsible for soliciting donated raffle prizes for Grad Night and running the raffle on May 25 during the event.
* Families to sponsor the following different food stations:
• In-N-Out Burger Station
• Dessert Bar Station
• Subway Sandwich Station
• Snack Station
A BIG THANK YOU to Nor-Cal Beverage, Deary and Bell Families for sponsoring the beverage station!
For questions or to volunteer, please click to contact Michele Villarreal.
Thank you!
Michele Villarreal, Brenda Deary & Melissa Warren
2019 Grad Night Co-Chairs