Our Visit to St. John's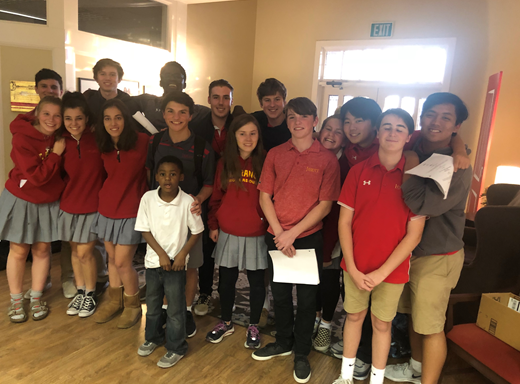 The cast of our 2018 Fall Play, The Elephant Man, visited the St. John's Shelter for Women and Children and shared their company-created presentation "No More Bullying" to a packed room of eager (and enthusiastic!) kids.
Led by 2018-19 Student Reps Gabe Rogers and Erin Tooley, the interactive presentation was well received, and we were able to give the children and staff copies of the book No More Bullying, as well as individual gift-bags filled with candy, colored pencils, and a small sketchbook.
Inspired by the themes of our fall play, Beyond the Black Box coordinator Cindy Dunning Jakle writes in our fall program,…
"This fall we are drawing upon the lessons learned by Joseph Merrick who was treated more as a creature than a human being and translating The Elephant Man into lessons of acceptance, compassion and kindness. Our students have created a workshop designed for elementary aged children utilizing The No More Bullying Book for Kids addressing how to recognize bullying, how to stop bullies and how to become 'bully proof.'"
Jesuit Drama is very grateful to its many Patrons whose support financed this project.
To learn more about St. John's, click here.
And to learn more about how to stop bullies and bullying, click here.