Schedule for Camp Marauder
Camp Marauder Jr. (5th and 6th grade boys) and Camp Marauder (7th-8th grade boys)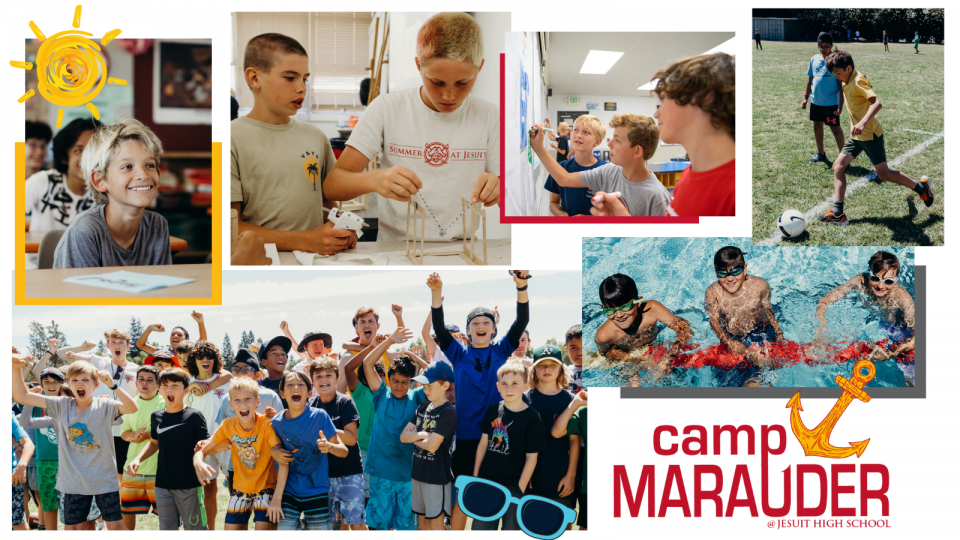 Session 1: June 12 - June 30, 2023 - 8:30 a.m. to 5:00 p.m.
Session 2: July 5 - July 21, 2023 - 8:30 a.m. to 5:00 p.m.
Holiday (June 19, July 3 and July 4)
Class Highlights – Camp Marauder Jr. (5th-6th)
Math of Sports
Students develop 5-6 grade level math fundamentals as relating to sports. Students look at the greatest players in respective sports by finding out shooting percentages, on-base statistics, and batting and pitching averages. There is hands-on learning in finding out their own shooting percentage as well as throwing pitches to measure their own fastball without a radar gun (averages/speed, distance, and time/time conversions). Additional math of sports is found in looking at the geometric shapes of playing surfaces and materials (finding area and volume).
Creative Writing & Critical Thinking
In this class, students will focus on the elements of narrative reading and identifying narrative elements, and then assess student knowledge through the writing process. Formative assessment would deal with the individual student's ability to highlight narrative elements and discuss their function in the story. This would be a more authentic summative assessment, checking for students' understanding of material from the first half of the unit in a more engaging format (as opposed to tests or essays).
Engineering
In a fun structured environment, students will explore Science through project-based learning. The students will learn principles of science such as displacement, velocity, kinetic energy, force, stored energy, mass, and force along with many other concepts. They will do this through lecture, research and most importantly apply these principles to hands-on builds so that they can see the science at work.
Minecraft 3D Printing
One of the most innovative and educational video games around is Minecraft. It offers real-world possibilities that encourage invention, creation, collaboration, and application. Students will form groups to design and build projects. We will combine their creative group work with a 3D printer to capture and print a model from their samples in Minecraft.
Class Highlights – Camp Marauder (7th-8th)
Experimental Probability and Statistics
Students will work individually and collaboratively to learn about various concepts that deal with probabilities and statistics. Students will learn about histograms, scatter plots, bar graphs, pie charts, etc. Ever wonder the chances of winning that carnival game at the State Fair? Students will work in groups to create games of probability, create a Scientific experiment and present their data to the class.
Media Literacy
Electronic media has become a part of our daily lives. Interacting with social media, video games, and media production tools requires knowing and applying some general guidelines. In this course, students will learn through scenarios, history, and personal stories on how to have fun, stay safe, and be respectful when navigating today's electronic media.
Scientifically Weird
Science exists all around us, together we will figure out the scientific explanation behind every day phenomena. We will explore and experiment with weird, gross and intriguing occurrences and practice using the Scientific Method to explore the world around us.
Newspaper
Aided by staff members of The Plank (the Jesuit High School online and print newspaper), students will produce traditional and current articles for a class publication. In two to three-person groups, students will interview, photograph and write a newspaper-style article about a person or event connected to the Academics Plus program. Then, also in groups, they will compose a multimedia blog post centered on a topic that they think will intrigue their peers. After editing, their work will be published and will help students realize their talents and the rewards of writing about their interests in a practical, direct style.
Daily Program Schedule
(subject to change)
8:00 – 8:45 a.m. Drop-Off
8:45 – 8:55 a.m. Morning Comments & Group Prayer
9:00 – 9:50 a.m. Exploration Class #1
9:55 – 10:45 a.m. Exploration Class #2
10:50 a.m.- 12:15 p.m. Swim/Sports – split groups (Camp Marauder Jr. and Camp Marauder)
12:15 – 12:50 p.m. Lunch (Harris Center)
12:55 – 1:45 p.m. Exploration Class #3
1:50 – 2:40 p.m. Exploration Class #4
2:45 – 4:10 p.m. Swim/Sports – split groups (Camp Marauder Jr. and Camp Marauder)
4:15 to 5:00 p.m. Pick-Up
Early Drop Off (7:30 a.m. – 8:00 a.m.) is available for an additional fee.
Fees

$100 registration fee plus $675 tuition
The $100 registration fee is not refundable.
Register before March 30th to receive a $25 discount on the registration fee. This discount is applied automatically on the registration site.
The registration fee is due at the time of registration. The balance of tuition is due by May 30th.