Timothy '81 and Mary Frances Jeffries double size of the Jeffries Family Scholarship Fund
$1 million gift further expands Jesuit Sacramento's Tuition Endowment Fund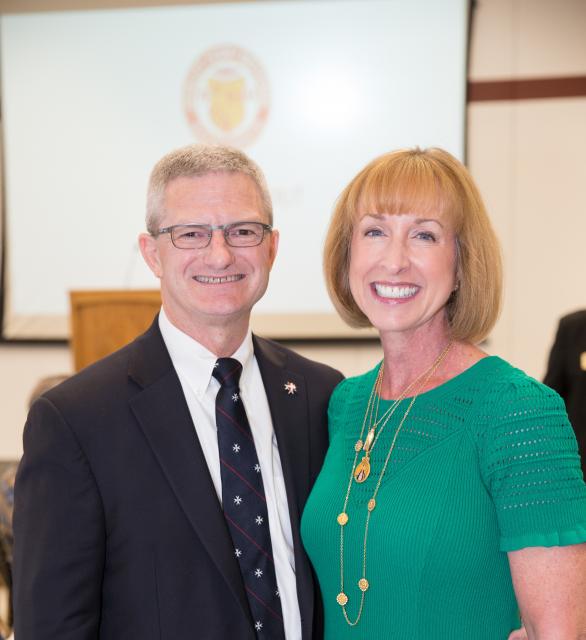 Sacramento, CA - Jesuit High School of Sacramento announces that alumnus Timothy '81 and Mary Frances Jeffries have gifted a total of $1 million to Jesuit Sacramento's Tuition Assistance Endowment. Their transformational gift, named the Jeffries Family Scholarship Fund, will provide student financial aid grants to help make a Jesuit education more accessible for more families in the Sacramento area.
Of the gift, Rev. John P. McGarry, S.J., president of Jesuit Sacramento, said, "This places the Jeffries Family as a leader in support of Jesuit Sacramento and in a category of benefactors with only nine other families who have also given at that level or higher. Their dedication and commitment to the mission of Jesuit High School is a great blessing to the school and to the countless students who benefit from the education and formation that it supports."
For more than 50 years, Jesuit Sacramento, an all-boys Catholic college-preparatory school, has shaped the region by educating "Men for Others." The school seeks to ensure that every family who desires a Jesuit education can afford it through the tuition endowment. The endowment is an essential source for the future viability, sustainability, accessibility, and affordability of the school, giving tuition assistance to one in four students annually. The school's aspirational goal is to double this endowment by 2028 – an objective that the Jeffries Family's gift is helping support.
Timothy shared, "Mary Frances and I were recently moved to double the size of our scholarship fund after receiving a wonderful letter from a current Marauder and heartfelt testimonial from his beloved mother. They both spoke movingly about the blessings of financial aid and assistance to attend Jesuit Sacramento. In the spirit of sacrificial almsgiving during the holy seasons of Advent and Christmas, we will joyfully fulfill this commitment before the new year dawns. We humbly hope and pray other Marauders and their families blessed to steward any abundance of God's treasure might also be moved to give more to help Marauders in need."
Jeffries, who was Jesuit Sacramento's Head Cheerleader and Student Body President in 1980-1981, has consistently been a supporter of Jesuit Sacramento, Catholic education, evangelization, and service. He was the keynote speaker at the 2019 Jesuit Sacramento Scholarship Luncheon, where he shared his heartfelt thoughts on Jesuit Sacramento's opportunity and responsibility to help educate and save souls.
"It was the Jesuits that first recognized education as a bonafide ministry of Christ," said Jeffries. He continued during his address by telling his personal story with passion, and at times humor. He urged the Jesuit Sacramento community to see beyond the exterior and extend compassion to a world that is suffering. "The mission of Jesuit High School is not just to educate generations of young men; it is to save souls."
Timothy and Mary Frances Jeffries are co-owners of ChemResearch Company, Inc., a national leader in metal finishing and integrated services for the aerospace and defense industry. Mr. Jeffries also serves as Executive Chairman and CEO of The Halcyon Movement a global non-profit dedicated to attacking the Seven Deadly Sins on the Internet. Dr. Jeffries is the Headmaster of Archway Classical Academy Veritas, a Great Hearts Academy. The Jeffries are invested in the ancient, religious Order of Malta where Timothy serves as the Chancellor for the Western United States. Married 34 years, the Jeffries fell in love at Santa Clara University. They are blessed with two daughters, two grandchildren, and a 170-pound Bull Mastiff puppy.
To learn more about making a charitable or planned gift to Jesuit High School Sacramento, 501(c)3 non-profit organization, please visit JesuitHighSchool.org/giving.
About Jesuit High School of Sacramento
Jesuit High School (Jesuit Sacramento) is a college preparatory Catholic high school that provides young men with a life-building experience. Founded in 1963, the school delivers an academically rigorous education to graduates prepared for lives of leadership and service. Student enrollment is approximately 1000, representing diversity in geography, ethnicity, religious affiliation, and socioeconomic background. Jesuit Sacramento draws from more than 90 zip codes throughout the Greater Sacramento Area, with 99% of graduates going on to college or university.