Staying Connected – Jan 22
Dear Parents, Students, Faculty and Staff,
This last week has been full of the joy and life that we have been working so hard to provide for the last six months. Approximately 600 people were tested for each screening cycle in the most efficient and seamless process to date. Integrating this process into the daily experience has provided a layer of safety that our teachers, staff, students, and parents have come to appreciate. The screening program, combined with the other virus mitigation protocols, has allowed Jesuit to invite any student who chooses to return to campus to be able to do so five days each week.
Members of the Administrative Team walked the campus on Tuesday and we're excited to note the increased chatter among students in the freshman and sophomore lunch areas, Juniors challenging each other on the ping pong tables after a session of NBA 2k, and Seniors enjoying a sunny day while playing spike ball on the baseball field. This has all been possible thanks to the student body's full cooperation with and respect of the Safe Return Plan. We do not see students complain or try to get around the rules; we are so proud of them for helping Jesuit create and sustain a culture of safety.
Jesuit also was able to serve the greater Sacramento region by donating the use of our parking lots for the County of Sacramento/Urgent Care vaccine clinics. Jesuit's experience of hosting drive-thru time-sensitive events – including the high capacity PCR testing for Jesuit families and the multiple Diocesean schools' COVID screening events since October – and the ability to quickly provide clerical and traffic flow volunteers put us in a position to be able to supplement the health officials efforts for this next step of fighting the pandemic. To see the tears of joy when the elderly residents of our county received the vaccine, getting them one step closer to reuniting with loved ones, was both a humbling and fulfilling experience for all of us. Our Jesuit campus location will continue to be used by Sacramento County/Urgent Care to distribute vaccines for several more weeks to pre-registered and qualified county residents. For more information please visit SacCounty.net or call Sacramento Public Health – we ask that you do not contact Jesuit for vaccine clinic information.
I am grateful for Jesuit High School as it finds ways to use the strength of its mission and tradition to be a place of action and hope in service to others for the Greater Glory of God.
In closing, I remind everyone that the application deadline for new students is here. As parents, you are our best testament to the gift that is Jesuit High School. Please feel free to share your experience with those who may be considering a Jesuit education and refer them to our Admissions team.
Sincerely,
Michael Wood
Principal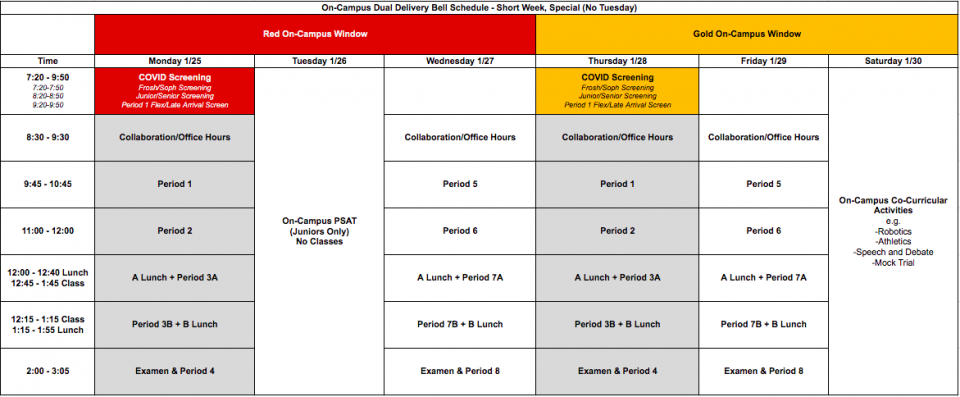 | | |
| --- | --- |
| M | C-1-2-3-4 | Red Screening |
| T | Testing | PSAT for Juniors only |
| W | C-5-6-7-8 |
| TH | C-1-2-3-4 | Gold Screening |
| F | C-5-6-7-8 |