Baccalaureate Mass
Baccalaureate Eucharistic Liturgy on JHS Campus

Event Details
Baccalaureate Mass begins promptly at 6:00 pm on Thursday, May 23, 2024, in the Jesuit High School Gymnasium. This is a mandatory event. More details to come. Carpooling is highly encouraged.
Doors close 5 minutes prior to the start of Mass. Guests who arrive after doors close must wait until the procession has finished before taking their seats.
Baccalaureate Mass does not require a ticket for entry.
Attire
Graduate
Dress attire (shoes, dark dress socks, dress slacks, shirt, tie)
Clean-shaven
Graduation gown on top of dress attire (no cap or HNS, CSF cords allowed for Mass)
Only Kairos crosses/pins (no other decorations)
Attire Diagram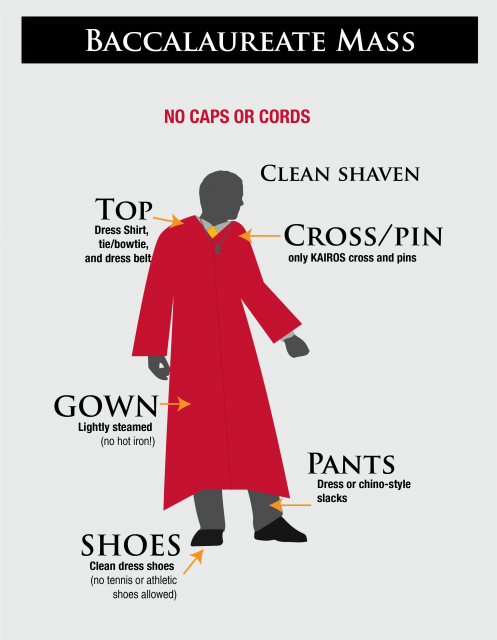 Safety
Uniformed officers from Sacramento Sheriff's Department and PAL America security officers will be on campus for this event. They will work in conjunction with our staff to ensure the safety and success of our event.