Embodying Jesuit's religious spirit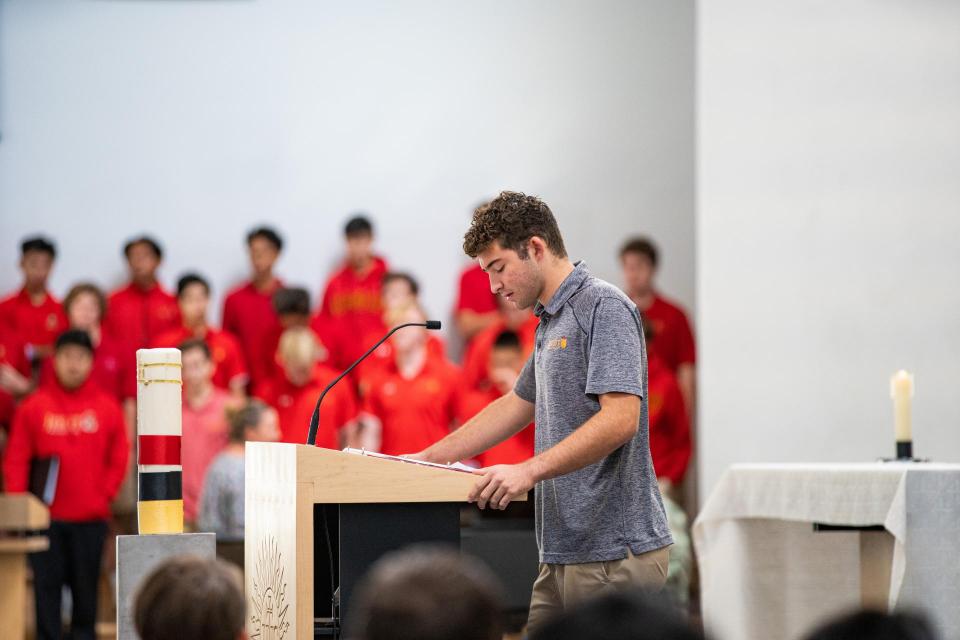 If you didn't already know him from his over-the-intercom examen prayers and his readings at Mass, then let us introduce Grant Houle '20, the religious coordinator for Jesuit High School in Sacramento.
Grant applied to be religious coordinator after being baptized and confirmed into the Catholic Church during the spring of his junior year.
"My desire to help others and to serve as a leader on campus led me to apply for the religious coordinator position," Grant said. "Additionally, I was newly baptized and confirmed, so I was determined to spread my religious zeal to others."
Grant's "religious zeal" also drove him to become a Big Brother and a Senior Retreat Team Leader.
After being elected religious coordinator, Grant spent much of the summer before his senior year planning retreats and prayers.
"Grant volunteered in Campus Ministry many hours during the summer leading up to senior year, preparing for the Freshman Overnight Retreat, writing the morning prayers which would be read over the PA each day, and brainstorming ways to help students connect with their faith," said Assistant Director of Campus Ministry Ms. Kelly Barnes.
During his time as religious coordinator, Grant has gained the respect of Campus Ministry staff members and students.
"Grant is instrumental in making stuff happen," said Director of Campus Ministry Mr. Paul LeBoeuf. "He is probably one of the best student leaders we have ever had in campus ministry. Grant cares for others! He embodies the grad at graduation."
"Working with Grant is amazing, he brings joy to whatever team he is on," said Diocesan Pastoral Council Student Representative Jonathan Fong '20. "People who work with me know that I can oftentimes be overly serious, and [persnickety] about everything. Grant is the balance to that, he knows how to bring me back to earth, bring some fun into Campus Ministry, and he also just knows how to get things done."
Grant Houle has also taken other leadership roles around campus, other than religious ones. This year he headed the Art of Being a Gentleman Club, a club that discusses healthy masculinity. Mr. Andrew Shahamiri, faculty co-moderator for the club, sees Grant as a great leader and a generous brother.
"Grant always greets you with a smile and a handshake," Mr. Shahamiri said. "His interest and care for others is readily apparent, always asking how people are doing and listening intently to their response."
Through his ability to lead others and the good nature he has brought to the job of religious coordinator, Grant left his mark on Jesuit.
He will continue to be a man for others and a thorough leader as he continues on past Jesuit. Grant will be attending college at San Diego State University. There he will be in their Naval ROTC program to graduate as a commissioned officer in the U.S. Navy so he can fly fighter jets.