Garrett McGriff Commits to The United States Military Academy at West Point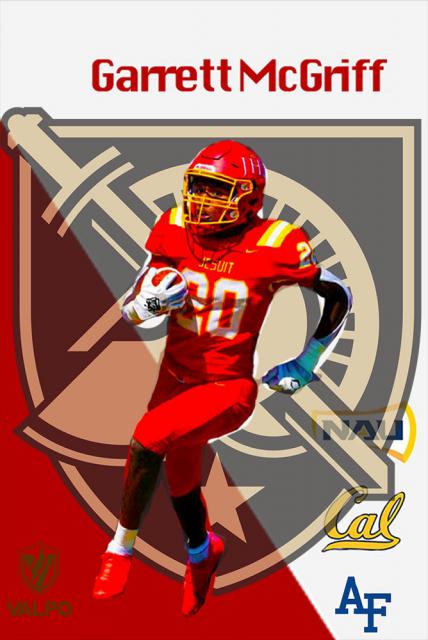 Varsity Football player Garrett McGriff '22 of Jesuit High School Sacramento just finished a great season leading his team to the playoffs and boasting impressive individual statistics. His excellent season as a running back and safety has proved that he is a great prospect for high-level Division 1 schools. Today, his efforts culminated in his commitment to The United States Military Academy at West Point where Garrett will continue to pursue his dreams.

In the 2021-22 season, Jesuit amassed a record of 10-2 and completed an impressive playoff run, making it to the semifinal in the CIF Sac-Joaquin Football Playoffs where they lost to Folsom High School. A big reason for the team's success this year was Garrett.
Garrett's statistics boasted 879 rushing yards for an average of 12.2 yards per carry, 20 total touchdowns, 23 total tackles, three interceptions, and 120 kickoff return yards in only three returns. Along with his statistically great year, Garrett was awarded the Delta League MVP and a spot on the Delta League 1st team. Garrett credits his growth to his experience last year during the COVID-19 pandemic.
"A transformational experience for me was the COVID season with a limited amount of games to play," Garrett said. "It showed me that football will not always be here forever and to make the most of all the opportunities I have on the field."
Garrett possesses a deep knowledge of the game. His teammate, outside-linebacker Adam Hammond '22 points to Garrett's uncommon aptitude for the game as a reason for his success.
"He understands the game of football," Adam said. "I don't know if it's just from playing Madden or whatnot, but he knows what is going to happen before it happens. He is always a couple of steps ahead of the person in front of him and this season he really showed that."
Garrett brings a game-changing dynamic to the field every day and his attitude rubs off on his fellow teammates. Varsity Football Coach Marlon Blanton commends Garrett's exceptional ability to help his teammates.
"I think his confidence on the field that he plays with every day gives his teammates confidence as well," Coach Blanton said. "When he brings his confidence, and he always brings it, it really lifts the rest of the team up."
Coach Blanton further compliments Garrett's abilities and the improvement that he has made.
"Garrett's energy is impressive, his commitment to being physical on the football field is always there, and he has excellent vision running the football," Coach Blanton said. "We really enjoy the fact that he has turned the corner these last few years and has embraced being a part of the Marauder football family and more importantly he has truly embraced his teammates."
Garrett's aptitude for the game has provided him with an excellent path for his future. He has plans to major in finance in college which will pave the way for a business career. With Garrett's impressive season of exemplary leadership and great production, he received offers to play football for Northern Arizona University, the University of California Berkeley, the United States Air Force Academy, and Valparaiso University before ultimately committing to West Point.
Garrett's commitment to the game, his studies, and to West Point will allow him to further his academic and athletic careers. With his great work ethic and talented skill set, it is no question that Garrett will succeed in achieving his goals.