Jesuit defeats Christian Brothers 44-0, in the biggest shutout in Holy Bowl history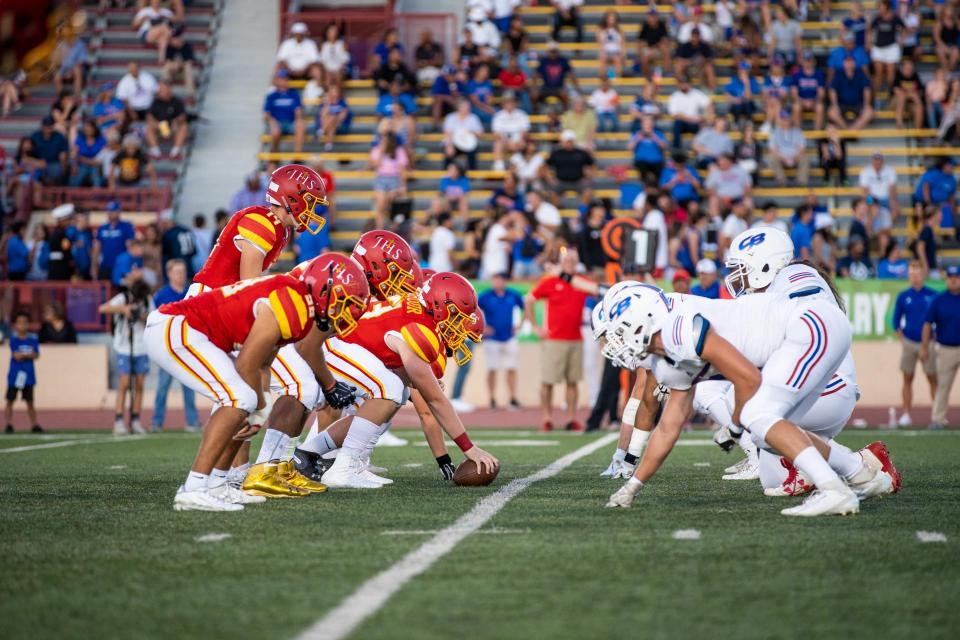 Last Saturday's football game was the 50th anniversary Holy Bowl, and it will go down as the highest scoring shutout in Holy Bowl history with Jesuit High School Sacramento defeating the Christian Brothers High School by a score of 44-0.
Jesuit's offense gained what turned out to be unstoppable momentum after Jackson Hagopian's '22 pick-six in the first quarter making the score 20-0.
"We played phenomenal[ly]," said running-back Kai Santos '22. "We did what we were supposed to do and we executed the plays well.".
Defensively, Jesuit showed their dominance. Jesuit forced CB into unfavorable 4th down situations on nearly every set of downs. Jesuit capitalized on CB's mistakes, scoring 21 points in the first quarter alone. When asked how the 50th anniversary game went, Dean La Roddric Theodule responded simply.
"The game went great; look at the scoreboard," Dean Theodule said.
Jesuit's Defensive Coordinator and Offensive Line Coach Sean Morris related the team's sense of brotherhood to the spirit of unity that the country experiences every Sept. 11th.
"I think it's a joint of 9/11 and also the passing of those 13 marines, you know getting those guys focused and understanding what's bigger than the football game and understanding being there for each other, being there for family; it kind of brings the brotherhood and men for others together," Coach Morris said.
Every member of the football team was playing for the same reason: to commemorate those who lost their lives on that devastating day.
"We were just playing for all those who were impacted by 9/11," Kai said. "It was a sad time, and we came out and played for them."
Having nine-thousand fans at 2021's Holy Bowl was significant because in 2020 fans were not allowed to attend the football game between Jesuit and CB.
"Just bringing back an old rivalry, a tradition that is rich and the game has a lot of history so it's good for everybody to get back together and have a safe environment for us to play the game," Dean Theodule said.
With the large crowd and the largest shutout in Holy Bowl history, the 50th annual Holy Bowl on 9/11 will be one not soon forgotten.