Jesuit football beats Davis High School and Sheldon High School in the run up to playoffs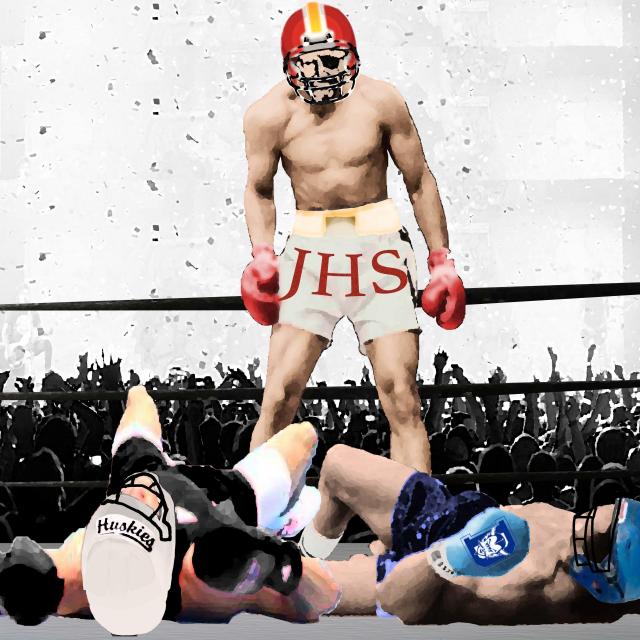 On Saturday, Oct. 28, the Jesuit High School Sacramento varsity football team beat the Davis High School Blue Devils 41-15. This win gave Jesuit a record of 8-1 and brought their winning streak to eight.
The team continued to command the field, particularly quarterback Trenton Dewar '23, who threw for 147 yards. Another standout performance was running back and linebacker Tatum Pappas '23 who rushed 92 yards, recorded five tackles, and scored a touchdown. By the end of the first half, the Marauders amassed a 35-0 lead.
Linebacker Adam Hammond '22 thinks the team did well, but it was not a playoff worthy performance.
"I'd rate our performance a 5/10," Adam said. "Although we won by a large dividend, we definitely could've done a lot better, and going into playoffs that's not the kind of competition that we're gonna be facing, and we need to be ready for better opponents."
With playoffs starting soon, Adam notes that what happens before game day is a determinant for the game's outcome. With that mentality, Adam and the team are looking to play hard leading into the playoffs.
"I think the team specifically has to work on execution," Adam said. "Practice is the most important thing. It's not really what we do on game day; it's what we do before game day."
After a week of preparation, Jesuit played their final league game against Sheldon High School on Friday, Oct. 29. Jesuit came out on top with a 48-18 victory, bringing their record to 9-1, slotting them as the No. 2 seed for the playoff bracket.
In the game, Sheldon took an early lead, scoring the first touchdown with 8 minutes to go in the first quarter. By the end of the first quarter, Jesuit managed to take the lead with a touchdown making it 7-6. In the second quarter, Jesuit found their mojo, and scored five more touchdowns, bringing the score to 41-6 at halftime.
Jesuit scored one more touchdown in the third quarter but was shut out in the fourth quarter. Sheldon, on the other hand, scored two touchdowns in the fourth quarter, but the late flurry proved too little too late for a comeback, Jesuit won 48-18.
Pushing their win streak to nine, Jesuit has a lot of momentum going into the playoffs. Scout and Film Coordinator Coach Jonathan Isaac expects to see a new fire lit in the team in preparation for playoffs.
"I expect our group to continue to play with passion, savoring every extended moment with this team and its members," Coach Isaac said. "We should maintain our commitment to preparation from week to week."
Since Jesuit earned the No. 2 seed for playoffs, they received a bye week. In the break, the team planned on improving their health and fundamentals.
"We are going to work on getting healthy," Coach Isaac said. "Our team has gone through a physically grueling season, and it's not going to get any easier. Our team needs to focus in the weight room, and improve their fundamentals in blocking and tackling."
With only one loss this season and nine consecutive wins, Jesuit has hit a hot streak and hopes to prolong it in the playoffs.
Jesuit's first opponent in the playoffs is Del Oro High School, who are the 7th seed and beat Enochs High School in a close 28-21 win on Nov. 5. The two teams will play at Jesuit on Saturday, Nov. 12 at 1 p.m.