Jesuit football gets ready for first regular season game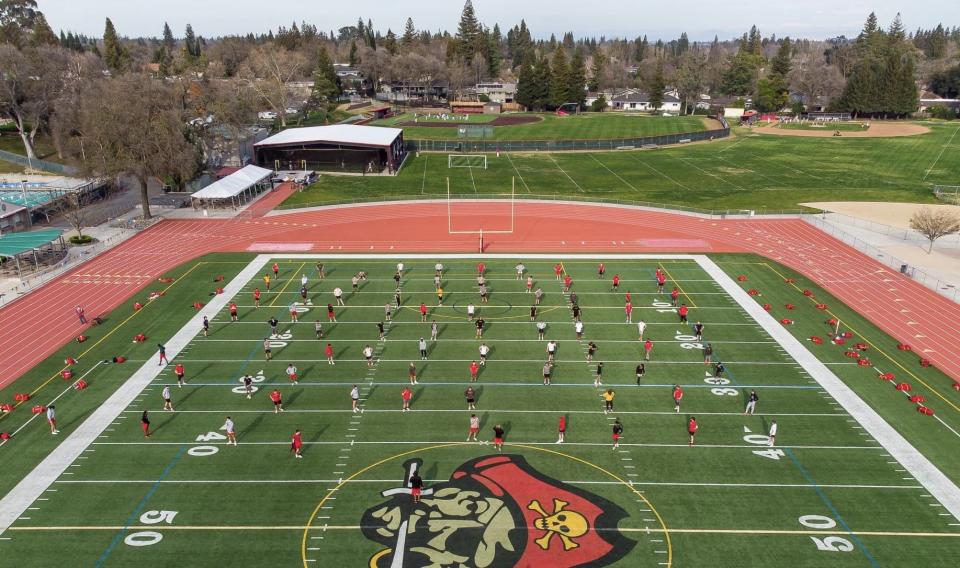 In what will be Jesuit High School Sacramento's first home football game in over a year, the Marauders will host the Saint Mary's High School Rams for their season opener on Saturday, March 20.
Going into Saturday's clash, Jesuit already has some game experience after a scrimmage against Rocklin High School. While it was only a practice game, Running Back and Defensive Back Ace Saca '21 was proud of the way his team played despite not having much time to prepare.
"Some positive things to take away from the scrimmage is the way we competed and played hard with only a couple weeks to prepare," Ace said.
According to Defensive Back and Wide Receiver Roman Canaan '21, the scrimmage was a great opportunity for the team to get ready for the season.
"In the Rocklin scrimmage it was great to finally get back out there and see how hard and physical everyone was playing, especially the lineman," Roman said. "As expected though we had a little bit of rust from not playing a game in over 16 months, but nothing film and more reps can't fix."
While Saturday's game will be Jesuit's first, St. Mary's is already 0-1 — losing to longtime football powerhouse De La Salle High School 35-27.
With three of St. Mary's four touchdowns against De La Salle coming through the air, Jesuit Wide Receiver and Defensive Back Jake Hall '21 believes the team must contain the Rams' receivers.
"The defensive backs must perform to a very high level as their receivers are skilled," Jake said. "We have to be precise in our coverages and cannot make mistakes, because they are sure to capitalize on any mistake for a touchdown."
For Ace, success against St. Mary's will require each player to fulfill what's being asked of them.
"In order for us to beat St Mary's everyone needs to do their job and we need to win the one-on-one battles," Ace said. "If we trust in our coaches' game plan it should put us in a good position to win."
It's clear that while defeating St. Mary's will be a tough task, the Marauders know what it takes to win.
To follow the game, fans can receive in-game updates from the Jesuit Sac Sports App. The game will also be live-streamed through the NFHS Network.