Jesuit football hopes to set the tone with a win in their season opener against Folsom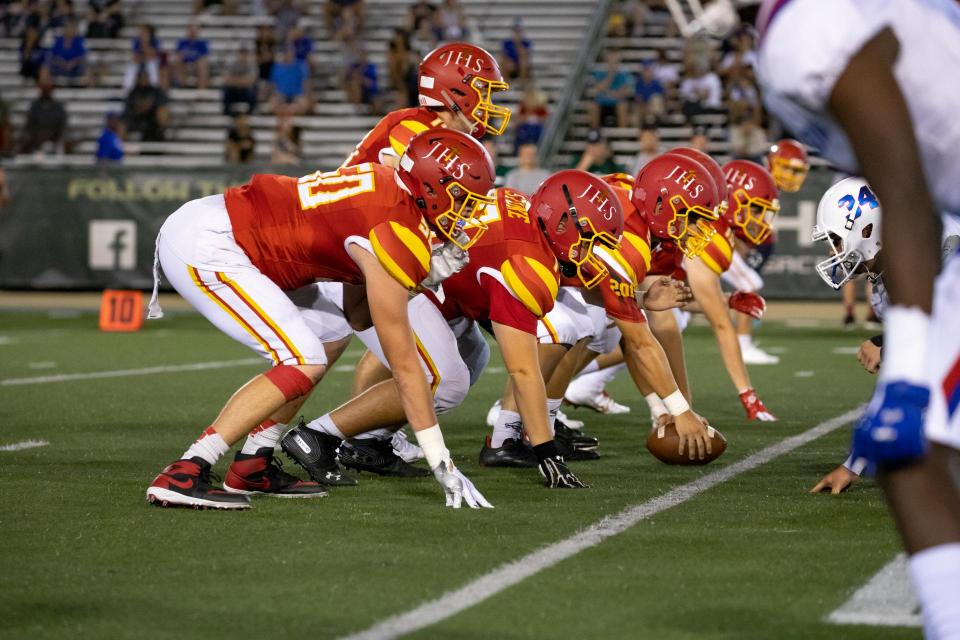 Update: Due to poor air quality in Folsom, the varsity football game has been moved to Jesuit at 4:30 p.m. and we have adjusted the story to mention that.
On Friday, Aug. 27, at 4:30 p.m. the Jesuit High School varsity football team will be facing a tough opponent as their season opener is against the Folsom High School Bulldogs at Jesuit.
Due to COVID-19, these two teams were not able to play against each other last year. The last time Jesuit faced the Bulldogs was in August of 2019, losing with a score of 12-52.
Despite FHS strong football team, Head Varsity Football Coach Marlon Blanton is confident in his team's ability to compete against such strong competition and believes that Jesuit will put up a tough fight.
"I feel good about playing the best teams in the area, especially when we're supposed to be one of the best teams in the area," Coach Blanton said. "The way you find out is that you play the best teams in the area."
Despite the tough competitors, Lineman Jack Hemmert '22 has faith in the hard work that the team has done to prepare for the season.
"First game is Folsom," Jack said. "You know it's always the hardest game of the year. We've been preparing all summer and we've been progressing, getting better every day. So I'm really excited for my team, for this season, and for the first game of the year."
Cornerback Jackson Hagopian '22 assures that the team will play well and will be seen as fierce competitors to other teams in the upcoming season.
"I believe that if we just play our game and execute our plays we will be just fine," Jackson said. "Once we start doing this consistently, we are going to be a scary team to play."
Students and parents can buy tickets online at GoFan by looking up Jesuit High School. Adult tickets are being sold for $8, and student and senior citizen tickets for $6.
Jesuit Cheerleaders ask to support the Marauders this Friday at the game by wearing white. If you would like to watch the game but cannot make it to the game, live streams are available on the NFHS Network via a subscription.