Jesuit football increases win streak with strong victory against Franklin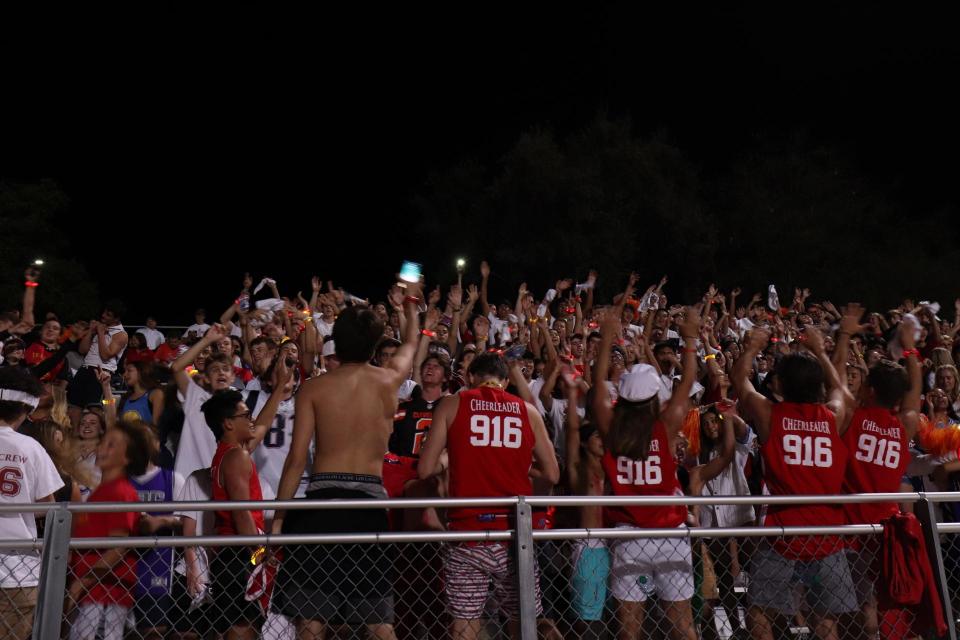 On Friday, Oct. 1, the Jesuit High School Sacramento Marauders varsity football team earned a win against Franklin High School, adding another victory to their win streak with a score of 47-16, making their record 5-1 for the season.
The game started off close, with Jesuit winning 13-8. But, the Marauders had an outstanding second quarter scoring 3 TD. The Marauders completed the game with 379 total yards which included 6 rushing TD and 1 receiving TD while holding Franklin to 2 TDs.
Varsity Football Scout and Film Coordinator Coach Jonathan Isaac commends Wide Receiver TJ Pappas '23 for his incredible plays and being a true fighter for the team.
"TJ Pappas, he got two, probably like, sixty yard runs called back because of a penalty," Coach Isaac said. "But he was a warrior out there. He never comes off the field. He started on defense and started on offense, since Kai Santos was out. He started both ways. He's on every special team. He was just a warrior for us."
Coach Isaac also acknowledges the team's improvements over the season and how they were able to analyze their opponents for this matchup.
"Our kids have been really coachable this past month," Coach Isaac said. "They've really taken well to assessments of their opponents and not taking anybody lightly. It's been good to see them do that."
Offensive Lineman Blair Horan '22 notices the advancements the team has made since their first game of the season, which has been their only loss.
"Our team's mentality, effort, and execution have come an extremely long way since our loss to Folsom," Blair said. "If we can continue playing the way we play now and focus on our technique and fundamentals, we will be really good."
Linebacker Alex Benham '22, who finished the game with a total of four tackles, also attributes the team's improvements to their shared desire to win the section title this season.
"I see improvements on both sides of the ball both offense and defense," Alex said. "But more importantly I see players become more focused and zeroed in on the goal of wanting to win a section title."
Although the team has made many incredible improvements and great plays, Coach Isaac still sees much room for improvement in the future.
"We played a very sloppy game altogether in terms of penalties and stuff like that," Coach Isaac said. "There's no excuse for that. We can't always blame the refs, they're human, too. We just gotta play better."
Going into next week's game, Blair is confident that the team will take the win against Cosumnes Oaks High School, who just beat Pleasant Grove High School 47-30.
"Cosumnes Oaks is a good football team coming off of a dominant win over Pleasant Grove, and they have a lot of really good athletes, so we can not take them lightly," Blair said. "However, I think that if we play Marauder football and execute we should be able to come away with the win."
The Jesuit High School Marauders will play their next game against the Cosumnes Oaks Wolfpack who are 3-3 this Saturday, Oct. 9 at 1:00 p.m. at Jesuit High School. Tickets are being sold here. Student, child, and senior tickets are being sold for $5 and adult tickets are being sold for $7.