Jesuit football prepares to face Christian Brothers in the 50th annual Holy Bowl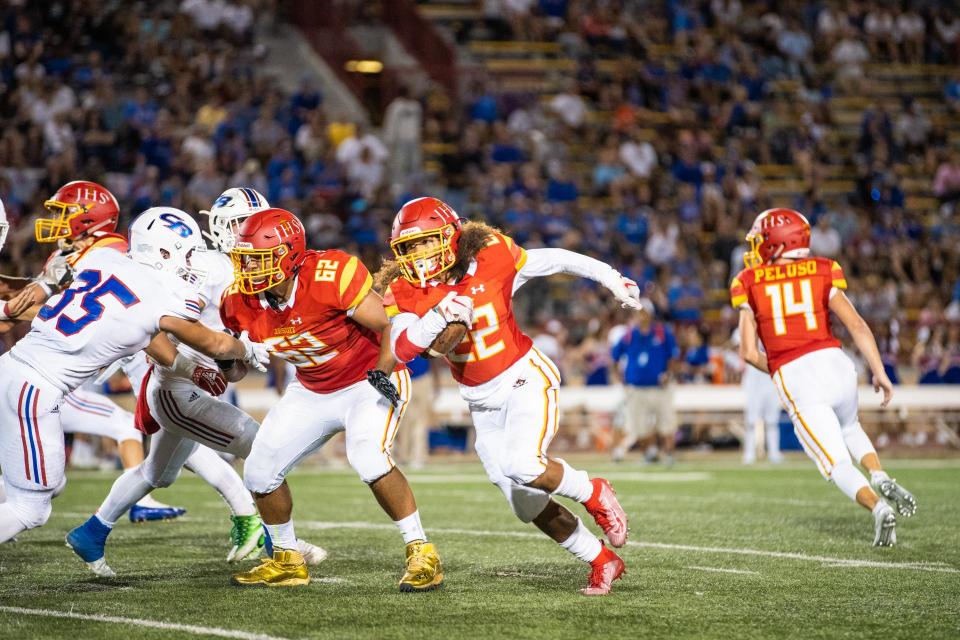 In the most anticipated game of the season, the Jesuit High School Sacramento Marauders will face the Christian Brothers High School Falcons this Saturday, Sept. 11th, at Hughes Stadium in the 50th Annual Holy Bowl.
The Marauders have dominated the Holy Bowl since 1993 with a record of 26-3
After facing a tough loss to Folsom High School, Jesuit hopes to have mended the small gaps in their game that Folsom exposed. Head Varsity Football Coach Marlon Blanton anticipates his team will continue its improvement.
"We will be ready to compete, the team is ready," Coach Blanton said. "After the first couple of games, we always improve."
Jesuit's growth accounted for the team's win against Granite Bay High School.
The Marauders' offense is strong this year with an impressive running back Kai Santos '22, a clutch receiver Garret Mcgriff '22, a towering giant Kai Wallin '22, and the consistent quarterback Preston Vukocich '22.
The Falcons look to rely on their highly recruited senior running back D.J. Crowther and their senior quarterback Jake Elorduy, who has led CB to a record of 2-0 against opponents Sheldon High School and Burbank High School.
With CB starting strong this season, offensive lineman JP Leatherby '22 notes that there are specific aspects the Marauders need to zone in on to ensure a win.
"We are going to need to stay as locked in as possible," JP said. "Our big strategy for this game is to try to lock down their running back because he is their most dangerous player."
Shutting down D.J. Crowther will provide Jesuit with a much greater chance to win.
In addition to the game, the night will include celebrations and ceremonies that will take place to celebrate the 50th anniversary of the Holy Bowl.
Director of Marketing and Communications, Mrs. Elizabeth Sands describes a unique event taking place that will be a nod of respect to the military, and a moment of silence for those who lost their lives on 9/11 two decades ago.
"We reached out to our own eagle scout club, led by Mr. Bernardi, and he is trying to talk to his scouts so we can have a Color Guard, a little ceremonial presentation moment of silence," Mrs. Sands said. "If all goes well, we'll be doing that at halftime."
With the rivalry between CB and Jesuit, this year's Holy Bowl will definitely be worth watching. Come support the Marauders this Saturday at Hughes Stadium.