Jesuit football prepares to face Folsom in rematch for opportunity to reach the Sac-Joaquin Section Championship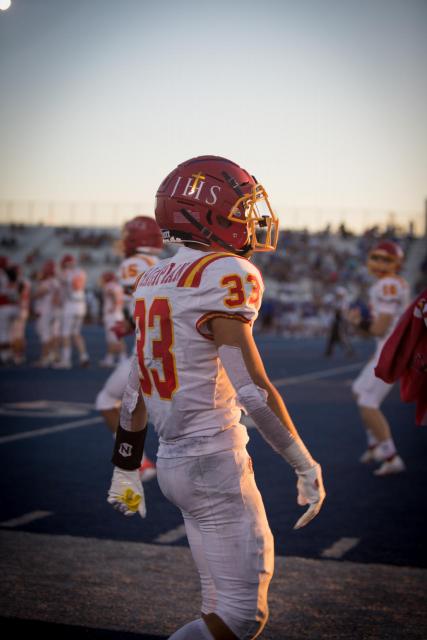 On Saturday, Nov. 20, the Jesuit High School Sacramento varsity football team will play the Folsom High School Bulldogs in the Sac-Joaquin Section semifinals on Jesuit's home field. Jesuit enters the game as the second seed in the playoffs while FHS are the third seed.
This will not be these two teams' first matchup. In the season opener, Jesuit lost 56-7. Although it was a devastating loss, the team moved on having not lost a game since. Running back Brenden Sands '22 thinks the team today is more prepared and locked in compared to their first match.
"Our team has changed a lot," Brenden said. "I think we are a much more disciplined, physical, and gritty team."
Right guard Blair Horan '22 knows the process that Jesuit football has endured in order to progress into the team they have become. Even with a rough start to the year, Jesuit football has become a force to be reckoned with. Blair notes the growth made by the team since their first game of the season.
"Historically, Jesuit football teams improve an immense amount from the beginning of the season and we are no different," Blair said. "After reviewing the film from the first game our team's effort and execution are dramatically improved. We made countless silly mistakes and were unable to execute plays that we now have mastered."
Assistant Coach Jonathan Isaac knows that Jesuit has what it takes to beat FHS. Coach Isaac stated that Jesuit would be doing the same training to prepare for the Folsom game as they have done to achieve their impressive record of 10-1.
"The same stuff we always do," Coach Isaac said. "A lot of film study trying to pick up some tendencies from those guys. We need to get healthy. It's a long season so getting healthy is a priority for us."
The team has grown since their first matchup, fixing their flaws in preparation for the playoffs. Players like Brenden have been eagerly waiting to set the record straight against FHS in the playoffs.
"The minute we lost to Folsom our goal was to get to the D-1 playoffs and play them again," Brenden said. "And now we are there, I know this team is working hard. And I trust and stand behind my brothers for the battle that's coming on Saturday."
The kickoff for the highly anticipated rivalry game is at 1 p.m. at Jesuit High School. Tickets are free for all Jesuit High School students and Saint Francis High School students. The galley crew will be there and request that students wear red to support the team.
Editor's note: this article was completed before the game on Nov 20, but due to an error in our publishing protocols, it was not formally published until our staff returned to campus following Thanksgiving break.