Jesuit gets back-to-back victories over Cosumnes Oaks and Elk Grove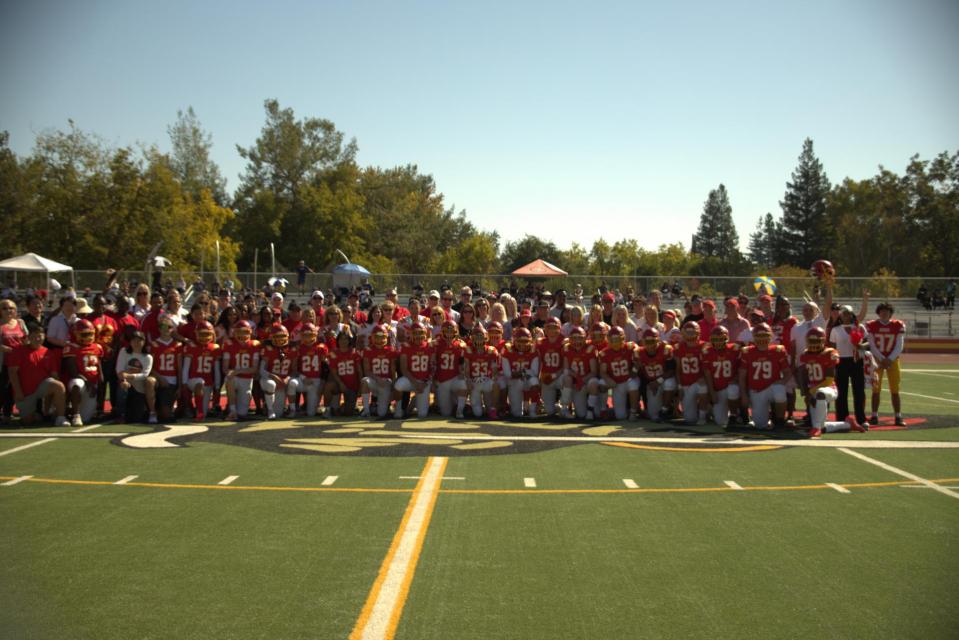 On Saturday, Oct. 9, the Jesuit High School Sacramento varsity football team beat the Cosumnes Oaks High School Wolfpack 41-6 at Jesuit High School, continuing a six-game winning streak and boasting a record of 6-1.
Jesuit started off with a touchdown in the first three minutes of the game. Only two minutes later, Jesuit scored again on a 70 yard rushing touchdown. By the end of the first half, the Marauders recorded two more touchdowns for a total of 28 points and were able to hold COHS to 6 points.
Running back Garrett McGriff '22 finished the game with 189 total yards and four of Jesuit's six touchdowns. Back-up running back Jagger Shadix '23 can attest to Garret's great performance and Jesuit's potential in the future.
"Garrett McGriff had a great game," Jagger said. "The team played pretty well on Saturday.
We made a couple mistakes but it isn't anything we can't fix."
At the start of the second half, Jesuit fumbled the ball but recovered only a minute later with an interception by Alexander Benham '22, setting up one of Jesuit's rushing touchdowns. Offensive and Defensive Line Coach Sean Morris commends the team's defense.
"Our defense as a unit has really been coming together and playing well," Coach Morris said. "It was great to see on one of the last plays of the game to see James Puchi '23 blitz and force a quick throw and Hawker Hechtl '22 get the interception. Then the entire team ran to block for him and our sideline erupted with excitement for those guys."
Then, on Saturday, Oct 16, Jesuit hosted the Elk Grove High School Thundering Herd at Jesuit and extended their winning streak to seven, defeating EGHS 70-35.
The game kicked off with Senior Night, when senior varsity football players along with their supportive families were honored for their contributions to the Jesuit football program over the last four years.
Within the first minute of the game, Jesuit scored its first touchdown on a fumble recovery by wide receiver Jackson Hagopian '22. A minute later, Garrett got the team's second touchdown off on a pick-six.
EGHS responded to Jesuit's quick start, narrowing their deficit to only a touchdown early in the second quarter; however, Jesuit increased their lead when Garrett had a 75 yard rushing touchdown, and lineman Nelson Jack Hemmert '22 had the team's second pick-six, leading into halftime led of 42-28. Jack was particularly impressed with the defense and attributed a lot of the team's performance to them.
"I'm really proud of my team," Jack said. "We stepped up big time on defense. We had seven turnovers which is like a school record or something. I'm really proud of my defense, we got interceptions, forced fumbles. My defense really took care of the game because of the kickoff to the game point."
In the fourth quarter, Jesuit returned to the magic of the first half. Quarterback Trenton Dewar '23 had two rushing touchdowns and running back Brenden Sands '22 had a rushing touchdown as well, which completed Jesuit's 70 point game. Trenton finished with 161 total yards followed by Jagger Shaddix with 114 total yards.
Sean Nam '22, the Assistant Team Manager, noted how the loss to Folsom early in the season as well as the challenges the team had faced kept their head in the game and prepared them to face Elk Grove on the field.
"The first game we lost pretty badly to Folsom, but I think that was the wakeup call we needed to know that we have to start working harder to get our wins in," Sean said. "We've won every single game since then. After Preston got hurt, it was really easy to get demoralized. Our new quarterback Trenton Dewar has really stepped up and has really come into his own. He's been playing awesome. Just seeing that has really helped out the team and shown that we can play very well."
On Oct. 22, Jesuit will play the Davis High School Blue Devils on their home field. DHS is 1-6 on the season and last week they won their first game of the season. Jesuit will look to extend its momentum into the rest of the season and into playoffs.