Jesuit Marauders get upset win over Vista del Lago in season finale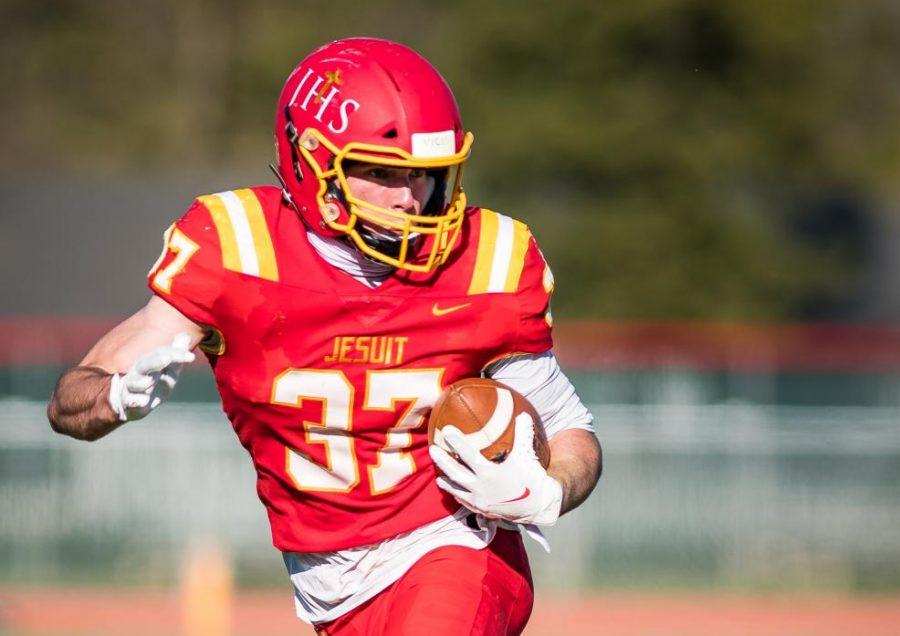 In the final game of the football season, Jesuit High School Sacramento's varsity team was looking to finish with a win. The Marauders achieved their goal as they got a 56-42 win over the Vista del Lago High School Eagles on Saturday, April 12.
It was an upset win for Jesuit — handing Vista del Lago its only loss of the season. The victory wouldn't have been possible without some key performances, one of which came from Jesuit running and defensive back Jackson Hagopian '22.
Jackson had two interceptions — including one with under a minute to go that sealed the game for Jesuit. He reflected on the win and this season as a whole.
"I think our team played really well," Jackson said. "We've come a long way from the Rocklin scrimmage and it showed. Our offensive and defensive line both played very good [sic]. It is sad that we couldn't get any more games in, but it was a great ride with all the seniors, and I hope that we can pick up next year where we left off this year!"
Two more running backs in Jesuit's arsenal, Kai Santos '22 and Cash Taylor '21, also heavily contributed to the game's outcome — combining for four touchdowns and 306 rushing yards.
Kai was not only proud of his performance, but also with the way his team played.
"For me I would say this game was my most successful and explosive game of the season," Kai said. "We started playing for something greater than ourselves. We were playing for each other, and [for] those who could not play. It felt amazing to win the last game of the season. Everyone has been put through so much this past year; it felt good to come out on top."
Jesuit kicker, receiver, and defensive back Alejandro Rojas '22, who made a difference on all sides of the ball, echoed his teammates in his joy to end the season with a big win.
"This game was played with our hearts and it showed, a lot of emotions were seen on Saturday," Alejandro said. "It feels great to end the season with a win and a little sad because the seniors are leaving. Especially Jake Hall '21, Keleki Latu '21, and Ace Saca '21. My three biggest motivators of the season for sure, [I] love these guys."
The season's final game comes with some sadness, especially for the seniors however, the players were happy to end the season with a victory and send their seniors off in the best way possible.