Jesuit outperformed by Elk Grove in championship game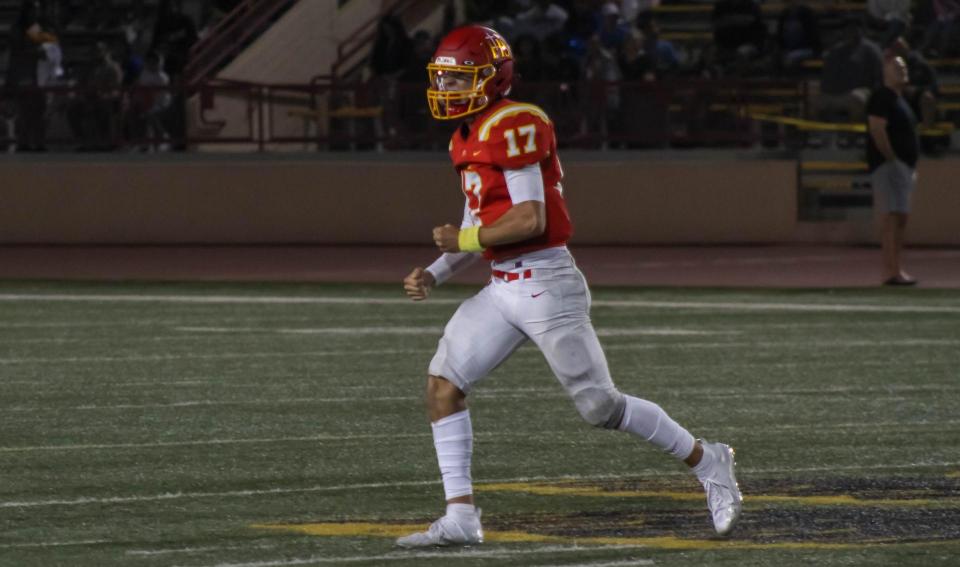 On Friday, Oct. 21, the Jesuit High School Sacramento varsity football team suited up for the Delta League Championship game against Elk Grove High School. The game was for the delta league championship with EGHS coming out on top by a score of 34-21.
Assistant Coach Jonathan Isaac recognized that due to a poor first quarter, Jesuit had trouble keeping up during the game.
"Outside of the first quarter, we played them even," Coach Isaac said. "Down the stretch, [we] just needed to make a couple more plays and we need to have better first quarters."
Running back Jagger Shaddix '23, who had 76 rushing yards on nine carries along with scoring one touchdown, believes the lack of preparation and overall seriousness going into the game was another factor to the loss.
"I felt like we came out really really soft," Jagger said. "We came out not ready to hit, not ready to play. I wouldn't say we underestimated them, but I think we didn't take the week seriously, so that led us to going into the game unprepared. Just playing slower than usual."
Running back Anthony Seibles '23 scored two touchdowns together with 12 rushing yards on four carries. He believes that execution is the key to the team fulfilling its expectations of winning against Davis.
"I feel like our team's expectations are to win," Anthony said. "We don't want to lose. We want to do everything in our power to win so I expect us to win. Hopefully, we can actually do it; we just need to get everybody on board and execute and put all of their effort into it."
Moving forward from the loss, the Jesuit Marauders take on the Davis Senior High School Blue Devils in a home game on October 29th. Kickoff is at 1:00pm.