Jesuit students represent the school in Washington D.C. at Ignatian Family Teach-in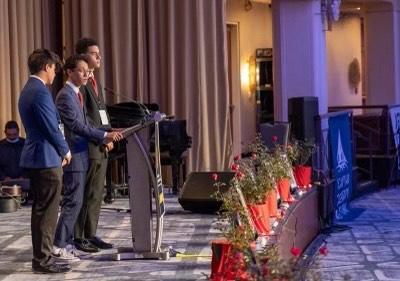 Jesuit High School Sacramento students took a trip to Washington D.C. for the annual Ignatian Family Teach-in for Justice that took place at the Washington Hilton Hotel throughout the weekend of Nov. 6.
The group of nine students made the 2,500 mile trip with the objective of increasing their understanding of justice while also perpetuating it. While on the trip, the students visited historical museums, took part in a night protest, and spent time at the National Mall.
"The goal of this trip was to educate ourselves on issues pertaining to justice, while simultaneously becoming inspired to act and address these issues within our world and community," Tommy said. "I can say with confidence that we accomplished this goal while on the trip."
A trio of students, Adam Sherif '22, Alonso Lee '22, and Tommy Contreras '22 also represented Jesuit at the Ignatian Family Teach-in for Justice by delivering a speech in front of thousands that addressed the social issues that affect the Jesuit community. The experience allowed these three students to be proponents towards social justice and meet impactful individuals within the national Jesuit community.
"Speaking in front of thousands of people from all over the world about our Jesuit journey to becoming an advocate for social justice in our school community was a true blessing and an unforgettable experience," Adam said. "I was able to chat with other high school students who were dealing with the same issues that our school was dealing with, and I was able to form friendships with other like-minded students. We also met influential figures in the Jesuit community such as Fr. Massingale and Fr. Greg Boyle."
Tommy believes that to make a difference, people must be able to find a way to speak up when something is wrong. To be pioneers for justice, they have to constantly challenge the current state of the world.
"In order to make an impact, we first must find the courage and determination within ourselves to speak up and act," Tommy said. "In society, when people choose silence and complacency, anyone's voice can become powerful. In order to be advocates for justice, we have to give power to our own voices by speaking up and challenging the status quo."
One of Alonso's main goals is to be able to inspire and make an impact on other people's lives. Speaking in front of thousands and being able to inspire even just one student provided Alonso with hope.
"I felt hopeful that at least one or two of the students are not alone in their efforts to be anti-racist," Alonso said.
Advocating for social justice is a difficult task, but Adam is able to overlook the negativity and sees the support from others around.
"Some of my takeaways are that social justice work is not easy," Adam said. "If it was, everyone would be doing it. Secondly, I realized although we received backlash from our work there is an overwhelming amount of support which greatly outweighs the negatives."
Tommy is also hopeful that the event helps everyone in the Jesuit community to understand what our principles are really about. If they can do that, Tommy trusts they will succeed in being leaders among the changes the world needs to face.
"Through this experience, I hope that the Jesuit community saw the importance of staying committed to the core Ignatian values of empathy, compassion, and kinship," Tommy said. "In doing so, I believe that we will have the power to not only make a difference in this world, but we will also have the power to ignite the hearts of other people to do the same."
Similar to Alonso, Adam shares the sentiment of hopefulness seeing how there are young individuals striving for change in the future.
"For me, the experience gave me hope," Adam said. "Seeing all of these young people who are passionately committed to advocating for justice in one place gave me hope for a better future."
Alonso also believes the event serves as a reminder for Jesuit communities to stand strong under their beliefs and continue preaching their faith to the world.
"I think the Jesuit Community can learn a lot from this experience at the Ignatian Family Teach-in," Alonso said. "I think IFTJ (Ignatian Family Teach-in) reminds Jesuit Institutions of their moral obligation, and that is to uphold Christ's calling to love unconditionally, to take up Christ's cross, and follow in his footsteps. Jesuit institutions should continue to make Jesus' love the object of their true desire as an institution."
Adam hopes that the Ignatian family and brotherhood, especially here at Jesuit, really focus on what the group was trying to deliver in Washington so that the brotherhood can grow.
"I want the Jesuit community to understand that these challenges cannot be ignored," Adam said. "As a community, we require change. It's time to face the unpleasant realities that demand our immediate attention. As brothers, we must totally support one another and seize this opportunity to learn, and enter conversations in order to improve ourselves."
The group believes that there is growth to be found in our own halls here at Jesuit High School and has a strong desire for people to raise their voices so that we can experience it. After representing our community at the annual Ignatian Family Teach-in at Washington D.C., they continue to fight for change within their alma mater.