Ms. Hilary Ahl uses her expertise to help Jesuit students in the Academic Support Center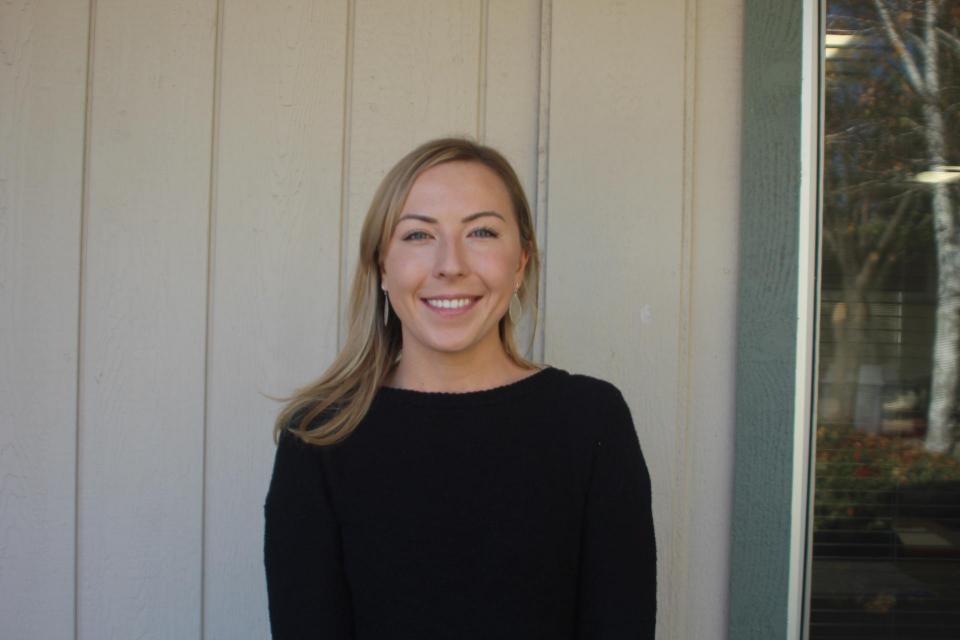 The newest addition to the Jesuit High School Sacramento Academic Support Center this year is Ms. Hilary Ahl, the new Assistant of the Academic Support Center.
Before coming to Jesuit, Ms. Ahl had her own tutoring business where she helped students of all ages in math, science, and SAT prep. She found it very satisfying to see growth in students from not being well organized to finding a focus.
"During COVID, I had a large number of students I worked really closely with and I found that sort of work really rewarding," Ms. Ahl said. "Being able to see someone start from a level of just being really lost and not really understanding how to organize and prioritize their work and being able to get them on a good track just felt like the right place for me and I've always tutored math, science, and SAT prep and this just feels like the lane that works well for me."
Since coming to Jesuit, Ms. Ahl has been impressed with the respectful and open attitude that the motto "Men for Others" inspires in her student interactions.
"I like the entire moral behind 'Men for Others'," Ms. Ahl said. "The guys that come in really address me with a lot of respect and when they come in they seem really eager to learn."
Academic Support Center Director Carol Rose appreciates Ms. Ahl's approachability, breadth of knowledge, and sense of growth as she settles into her new position at Jesuit.
"Ms. Ahl has an upbeat personality and a good sense of humor. She is approachable, kind, and a welcome addition to the ASC," Ms. Rose said. "Her math/science knowledge and can-do attitude are the things that stand out to me. When she doesn't know something, she isn't afraid to ask and/or look things up."
Assistant Principal for Academics Mr. Colin O'Connor '04 is excited to see Ms. Ahl grow in her role as an Ignatian educator.
"She is a very fast learner," Mr. O'Connor said. "[G]etting to know her a bit through the new faculty orientation, hearing some of her comments as she starts to understand what we are as a learning community as an Ignatian community, I'm excited for her to kind of tap into that side of the school, I don't know that that was what drew her here necessarily, but I sense that she was hungry to get involved in that particular way too, and those are always excellent hires."
Ms. Ahl's students in the Academic Support Center have good things to say about her and her work. Noah Yonka '22, a student who utilizes the resources of the Academic Support Center, notes how her focus on thinking about thinking has put him on the right track for success.
"I think in terms of learning experience she really wants to get into your mind, trying to get into what you're thinking, and then trying to redirect you to the right direction," Noah said.
Outside of work, she enjoys snowboarding in the winter and mountain biking in the summer. She also enjoys a good movie and a good read.
"I like hip-hop dancing; I like snowboarding during the wintertime," Ms. Ahl said. "I'm always at Sierra, in Sugar Bowl, and then during the summertime I mountain bike. So, a different hobby for every season. I really enjoy 'Pulp Fiction' and 'Silver Linings Playbook' for movies and right now I'm reading a really good book, it's a scientific one but it's called 'Dopamine: The Molecule of More.'"
Despite being new to Jesuit as well as to Ignatian education, Ms. Ahl has found a home in the Academic Support Center, employing her unique teaching approach to help students with their educational needs.