Student Body President takes on extra responsibilities due to pandemic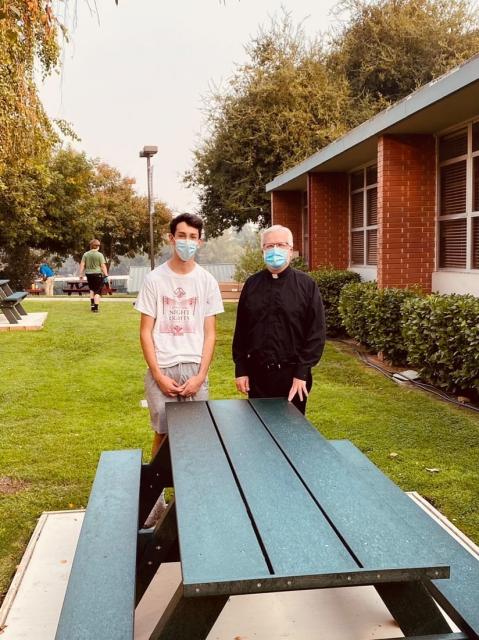 The role of Student Executive Council President at Jesuit High School Sacramento has always been to promote efficient communication throughout the school, help maintain school spirit, and organize the student body so that they may act with one voice.
While those responsibilities still hold true, the pandemic highlights those duties even more for 2020-2021 Student Executive Council President Ronan Brothers '21.
With only a portion of the student body on campus, most in-person events being delayed or canceled, and the uncertainty that much of the Jesuit community has dealt with over the past year, Student Activities Director Mr. Tim Kelly appreciates the work Ronan has done despite these difficulties.
"First of all, this hasn't been easy for him or anybody on the Executive Student Council to do much — there's a lot of limitations in terms of what we can do, but Ronan's been doing a good job," Mr. Kelly said. "I think he's responsive to things that are being asked of him — he's always willing to step up and do what's asked of him. My sense is that he's well-respected among his peers, which is important for a leader — he's got some credibility and I think he listens well."
One solution that Ronan and the rest of the executive council have found to bring the student body together has been holding safe, in-person events for students. Some of these events include an NBA2K Tournament, a Pingpong Tournament, and a Freshmen Frisbee Golf Tournament.
"We have tried to keep students engaged and feeling like one student body by doing things like video game tournaments and weekly reminder videos," Ronan said. "These unprecedented circumstances make what we would usually be doing impossible, so we have had to be creative, and we hope we are able to do some of the typical in-person events later in the year."
Jake Hall '21, the Student Executive Council Vice President, feels that he and Ronan are able to work very well together, and that Ronan is always trying to make sure the whole council is staying involved.
"Ronan has done a great job as our student body president," Jake said. "Despite the pandemic, he brings fresh ideas to the table and encourages participation among the council members. Ronan has been my best friend all throughout life, so it was no surprise that our chemistry as President and Vice President clicked right away."
Jake has known Ronan for a very long time and is always able to depend on and trust his best friend.
"Ronan is a very charismatic person," Jake said. "He has shown critical thinking in situations that required an out of the box solution. He is also someone who I've always been able to rely on for many different reasons."
Although it hasn't been easy, Ronan has still found his job to be as satisfying as he had hoped it would be.
"My job has been just as fulfilling as I thought it would be, but for different reasons than I expected," Ronan said. "On one hand, I don't get to see, in person, people enjoy the functions we put on or get to see them unfold. On the other hand, I understand this year is more difficult than others for students, so just knowing that people are enjoying our events and content brings me joy and fulfillment. These new obstacles balance out my job and make it as meaningful as it has always been."
It seems that despite the extraordinary conditions brought about by the pandemic, Ronan is just as committed to serving the student body and making the 2020-2021 school year, one to remember.