Taste of Success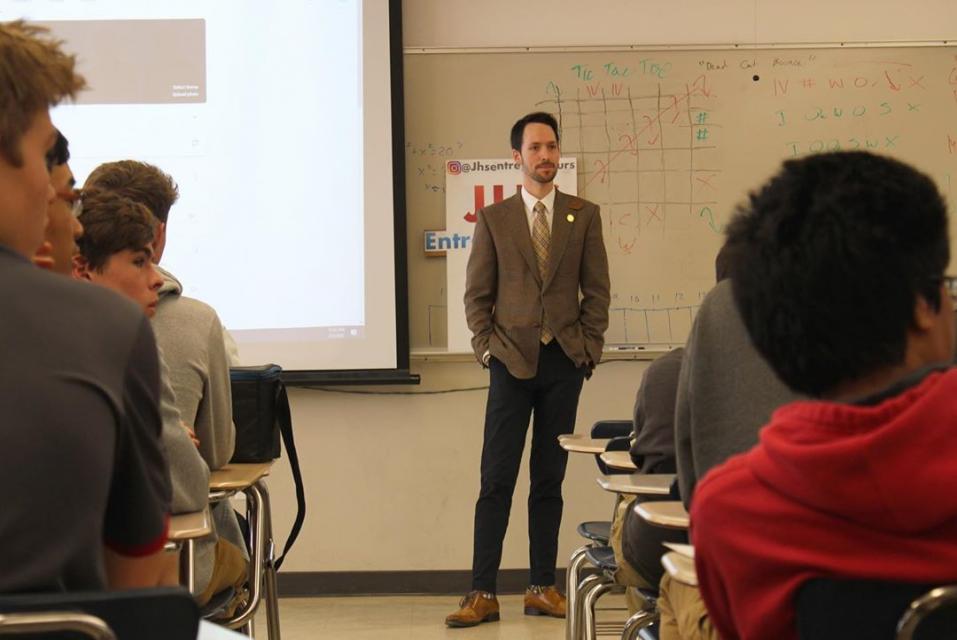 Starting a business can be one of the most rewarding yet challenging tasks one can undertake. Students at Jesuit High School Sacramento looking to get a taste of what it takes to succeed in the business world should check out the Entrepreneurs Club.
Founded at the beginning of the 2018-2019 school year, the Entrepreneurs Club invites Jesuit alumni to speak and answer questions about their experiences founding their own businesses. The club founder, Nick Salonites '20, started the club with intent to capitalize on Jesuit's vast alumni network.
"I wanted members to not only learn from 'real-life' entrepreneurs through speaking engagements but also apply what they learn by going out and creating something," Nick said. "That's really what we're all about, helping centralize Jesuit's motivated community of innovators to truly do great things."
While the speaking events are put on by the club, all members of the Jesuit community are invited to observe. After a date has been set with a prospective speaker, the club uses posters, social media, and school announcements to raise awareness.
Ritvik Gadhok '20, a club member, shared what he gets out of attending the events.
"[It's great] to get a chance to hear every entrepreneur's unique story and learn from the challenges and successes of starting their own business[es]," Ritvik said. "One day, I hope to apply the lessons I learned and start my own business, too."
Thus far, the club has invited six alumni to the speaking events from a range of different professions, from oil developers to restaurant owners and financial experts.
The most recent of the speakers before Jesuit's move to distance learning was Raymond James Irwin '09, founder of the downtown champagne bar Fizz, and he was excited to share some advice about what it takes to start a successful business.
"You want to take the skills you do have and sharpen them because you can't be good at everything; trying to be is a waste of time." Mr. Irwin said. "I worked with the skills I had. You don't have to have a specific skill set. You just have to do what you're good at. That's what I think really makes a successful entrepreneur."
In addition to the speaking events, Nick Salonites took inspiration from the TV show to plan what he hoped would be Jesuit's first annual Shark Tank event. Participants were to be drawn from club members and the occasion was scheduled for Saturday, April 23.
Unfortunately, due to the current shutdown the event had to be canceled this year. The hope is that starting next school year, the club can make a Jesuit Shark Tank event an annual spectacle.
With the Shark Tank event and other guest speakers sure to come next year, the Entrepreneurs Club offers a glimpse of the future for aspiring Marauders wishing to one day start their own businesses and pursue their dreams.
Matthew Marsh '20, Sports Editor