Staying Connected – Jan 16
Special schedule next week - Monday holiday
Dear Parents, Students, Faculty and Staff,
"For where two or three gather in my name, there am I with them" – Matthew 18:20
One of my greatest joys is developing relationships with the students, parents, faculty, and staff at Jesuit. Given the effects of COVID on education, consistently finding this joy has been an incredibly unique challenge this school year. I imagine developing and sustaining the relationships we hold dear has been a challenge for all of us on some level. The Thanksgiving, Christmas, and New Year holidays were all different as we found new ways to gather safely with those we love. I am proud of the faculty, staff, and families in this community for overcoming those challenges and adjusting to new ways of doing things throughout the first semester. I was equally thrilled to celebrate Mass for the first time together for the Mass for Peace and Justice on January 15. To paraphrase Fr. Petrich's opening statement at Mass, being together and sharing the Gospel in the community reminds me that God is always amongst us in everything we do at Jesuit High School. As Matthew 18:20 says, "For where two or three gather in my name, there am I with them."
That desire to come together as a community is why so many people have continued to dedicate themselves to bringing students back onto campus as much as we can this semester. Seeing our campus come to life this week with more students, faculty, and staff in the hallways, in the classrooms, and on our practice fields brought a new sense of hope for 2021. Getting a chance to chat with parents as they dropped off their sons to participate in Wednesday's fun and festive activities was the highlight of the week for me. We look forward to our next opportunities to bring students together to build community, learn together, have fun, and just be teenagers. As we roll out our plans for what is sure to be an exciting semester filled with learning and community building, I invite you all to lean into the hope that being on campus brings by being here together as often as we can. Parents, encourage your son to give more days of on-campus learning a try this semester. Students, gather groups of your friends and be with each other in class and at lunch. Seniors, reach out to Freshmen and help them become a part of our Brotherhood. Let us cherish the time we have together as a community over the coming months.
The next two weeks will have non-standard class schedules due to the holiday and National Test Day – please check the calendar closely. Students will have the opportunity to learn on campus for four days of classes. However, the order of class meetings will be shuffled around a bit at the beginning of the week due to the Martin Luther King Jr., holiday on January 18 and the PSAT day for registered Juniors on January 26. Please see the bundles below for more information and the bell schedule for each of the next two weeks.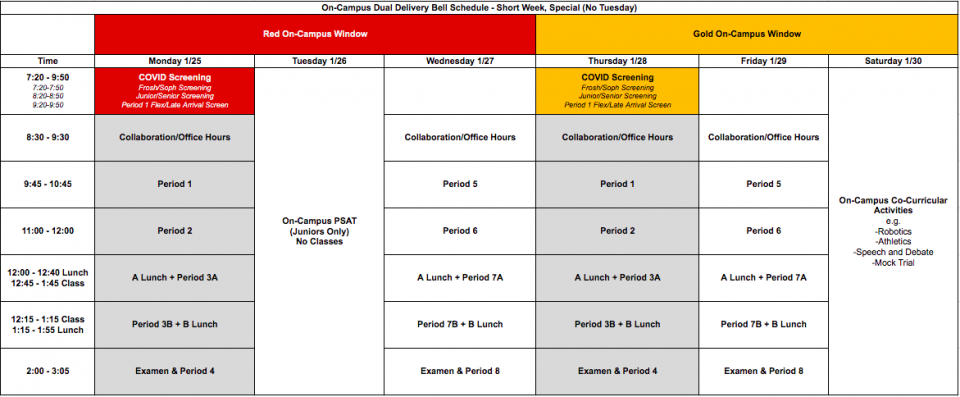 La Roddric Theodule
Dean of Students
| | |
| --- | --- |
| M | Holiday | Dr. Martin Luther King, Jr. Day |
| T | C-1-2-3-4 | Red Screening |
| W | C-5-6-7-8 | |
| TH | C-1-2-3-4 | Gold Screening, Class of 2025 Applications Due |
| F | C-5-6-7-8 | Faculty/Staff Sponsorship Work |