Another asset added to Jesuit's arsenal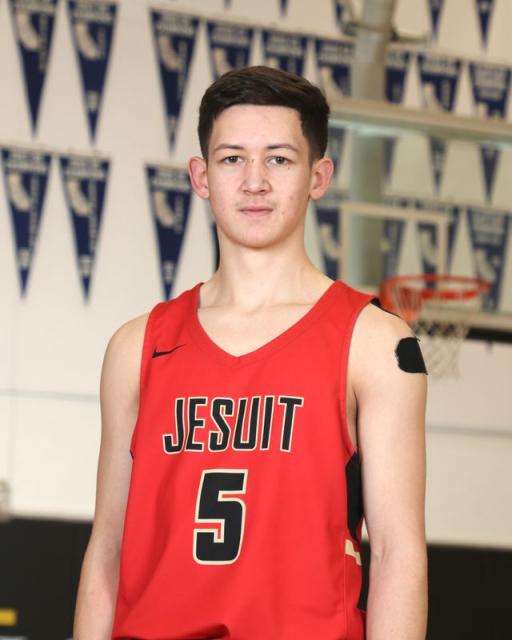 Every school year, Jesuit High School Sacramento gets a number of new transfers across all grades. This year, Kevin Haupt Jr. '24 transferred to Jesuit after completing his sophomore year at Oakmont High School in Roseville.

Kevin transferred to Jesuit for academics and basketball reasons, and he looks forward to putting in the hard work, on and off the court.
"I transferred this year to Jesuit to help me better myself in the classroom, and also to put me in a better position for basketball," Kevin said.
It is clear to see, with no biases, that Kevin is incredible at basketball. He posted some astonishing statistics during his sophomore year at OHS.
"I averaged 28.1 points a game as a sophomore on varsity last year, and also had scored my 1000th point in just my sophomore season last year," Kevin said.
With an exceptional talent like Kevin coming to Jesuit, teammate Joe Malaney '24 is eager to play with him.
"He is an extremely talented point guard, and a very good asset for our team," Joe said. "With his speed and ball handling he can get past his defender and find the open man almost every time. He makes practices extremely competitive, which raises everybody's game."
Head Basketball Coach Timothy Kelly admires Kevin's work ethic and is confident that he will fit in great with the Marauders.
"He is extremely quick, unselfish, and a great shooter," Coach Kelly said. "Kevin should help us tremendously. Kevin appeared to fit right in with his new teammates. People on our team respect hard workers, and Kevin has a great work ethic."
Fans can expect to see a high yield out of the new point guard, and can expect Jesuit to be successful this year. Although Kevin can't play yet due to new transfer rules, many in the community are looking forward to his debut in a Marauder uniform.