The Importance of Athletic Training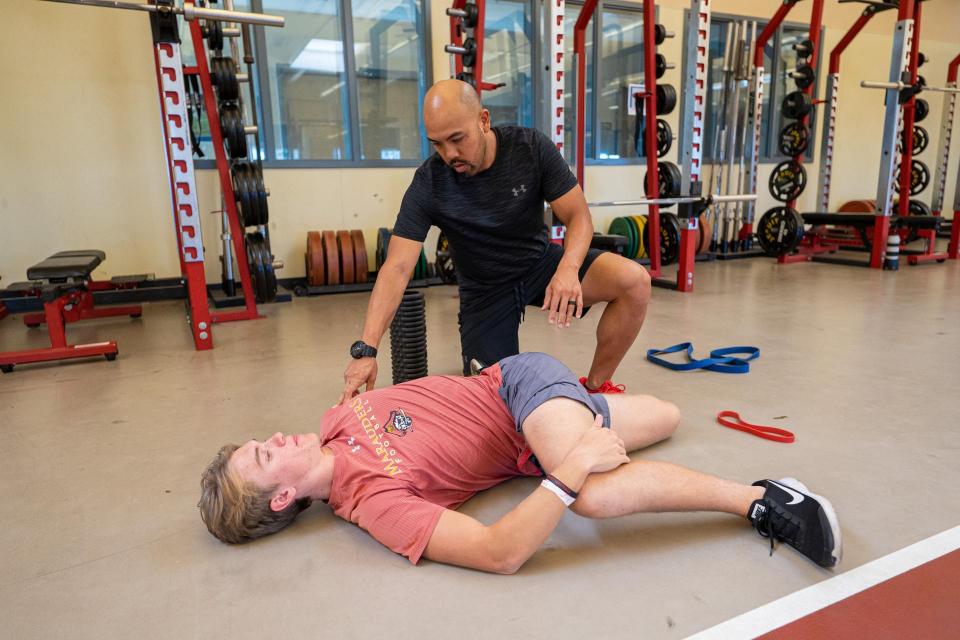 While it's fair to say the health and performance of athletes is prioritized now more than ever, many still don't fully understand the essential role athletic trainers serve in school athletics.
With sports presenting the risk of injury, athletic trainers are a necessity, even at the prep level. Despite this need, one in every three high schools in the U.S. has no access to an athletic trainer, according to a study used by Reuters.
To make matters worse, California is the only state that doesn't regulate the profession. The lack of licensure in California can pose a number of problems such as making it difficult or illegal to do basic tasks that athletic trainers do in other states .
But while California fails to recognize the necessity of athletic trainers, Jesuit High School Sacramento remains committed to protecting its athletes, which begins with taking athletic training seriously.
Jesuit Sports Performance Coordinator Mr. Jay "Coach Jay" Nacionales, who was originally hired at Jesuit to be an athletic trainer in 2007 before moving into his current position, believes that having a strong athletic training program is a no-brainer because it helps keep athletes safe and prepares them for the next level.
"If we are a college preparatory school academically and [if] we have other extracurriculars such as robotics or band that work in a way that is more college preparatory, college style, we should probably treat athletics in the same light being that we do have athletes who will move on either to a Junior College or 4-year college setting," Coach Jay said.
While some might have a good idea of the responsibilities held by someone working as an athletic trainer, many still don't understand or appreciate the complexity of the job.
Jesuit's Head Athletic Trainer, Ms. Jamie Ralph, breaks down the different aspects of her job.
"So the first role is prevention — making sure the people that are playing a sport are safe whether that be through pre-participation screenings, making sure they have their clearances to checking field conditions, [and] equipment conditions," Ms. Ralph said. "Then if somebody does get hurt, we're trained in how to recognize injuries, do special testing, stuff like that to diagnose what the actual injury is. Then once you diagnose the injury, come up with a treatment plan so a lot of that would be rehab exercises."
So with so many tasks to fulfill, why isn't athletic training regulated in California? Coach Jay can't quite figure it out, but he has a few ideas.
"To be honest, I'm not quite sure why," Coach Jay said. "I've been involved with the Legislative Action Team to try to get some bills passed that would have licensure or regulation of athletic training in California, and for some reason it always gets shut down. I do think in California there may be misconceptions about what we do. I think a lot of what people see or notice is the taping of ankles or stretching or giving out water, but I don't think they understand that there's a lot more to it."
Whether athletic trainers are working to prevent injuries, helping students recover, or carrying out the large number of other responsibilities they have, it's clear they play an extremely important role on campus, which is why it's hard to understand that the profession isn't regulated in California.