Jesuit basketball defeats Granite Bay despite shaky performance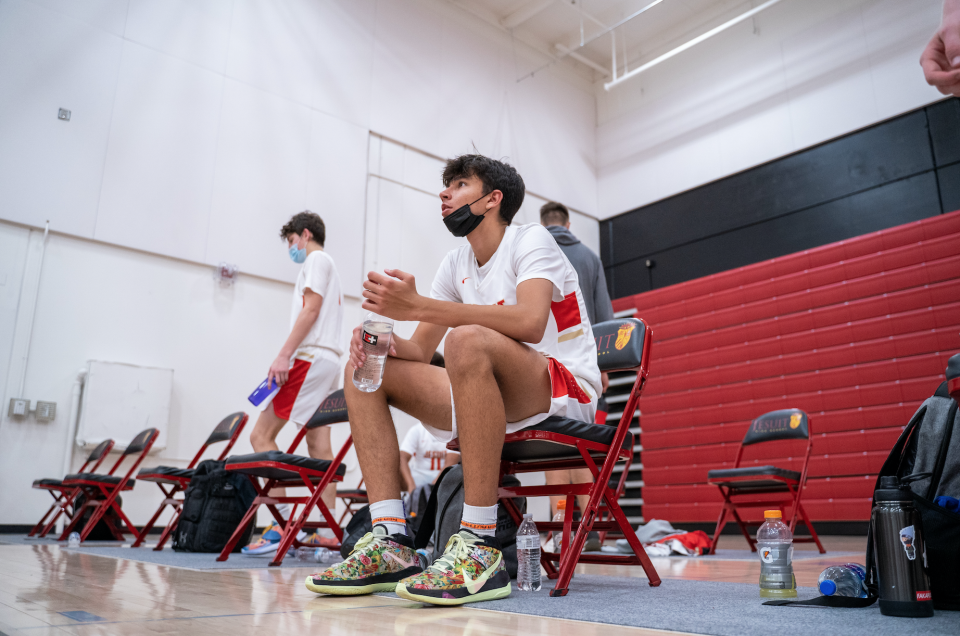 On Monday, May 3, the Jesuit High School Sacramento basketball team pulled out a 53-48 victory over Granite Bay High School.
With Jesuit being undefeated and Granite Bay having a losing record, the score was a little too close for Jesuit's comfort. Jesuit Head Varsity Basketball Coach Mr. Tim Kelly believes his team could've done much better.
"It was not a pretty game and I did not think we were at our best, but we found a way to win," Coach Kelly said. "Sometimes that is what it takes. Just find a way. I think we need to do a better job of being ready to compete at a high level. We need to hold ourselves to a higher standard and not be satisfied with just winning. It is about being your best."
Jesuit Forward Gabe Dirksen '21 also thinks the team didn't play to their full potential.
"We didn't do a lot of things well, but there were flashes of moving the ball with multiple quick passes and competing on defense, especially when the shot clock was winding down," Gabe said.
However, guard Reid Jones '23 was more optimistic about the team's performance. Where Coach Kelly and Gabe see mistakes, Reid sees potential.
"When we pushed it up the floor and ran our offense, we did really well and that was really how we scored all of our buckets," Reid said. "We have a lot of potential on this team and we have not even reached the surface of how good we can be. We had flashes of it tonight on the defensive side, now we just have to make it consistent."
Reid's sentiment is valid as a few players still put up solid performances. Skilled scoring wing Andrej Stojakovic '23 led the Marauders with 17 points while also grabbing nine rebounds. Guards Chris Holley '21 and Jayden Teat '23 were tied for second in scoring with 12 points each.
While their margin of victory wasn't as large as they were hoping for, the Marauders will get a chance to bounce back and play better when they host Sheldon High School on Thursday, May 6. Tipoff is at 7 p.m.