A leader, an athlete, and a man for others, DJ Hoang '21 made a difference at Jesuit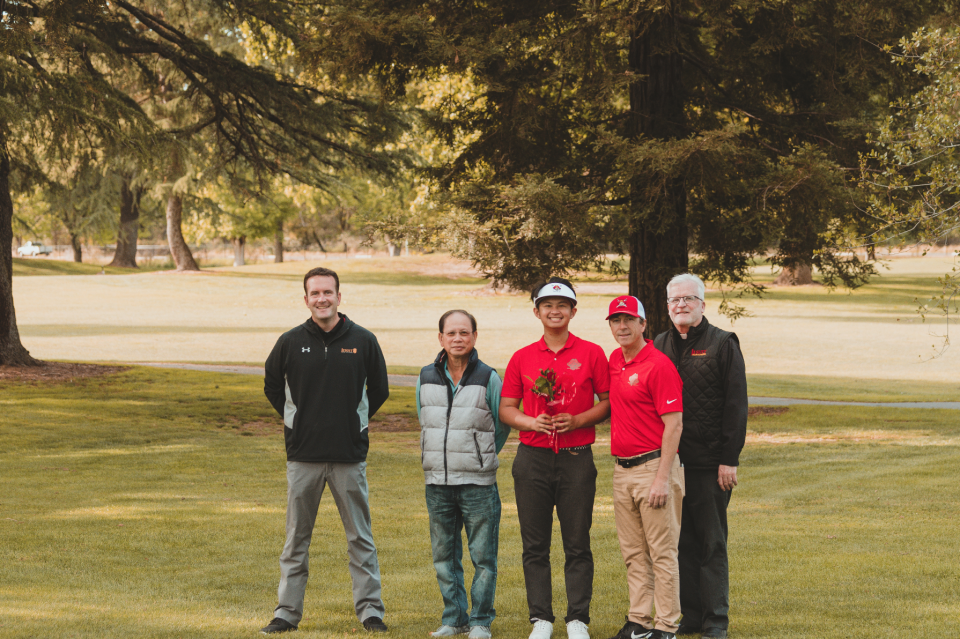 Contributing to the brotherhood through his positive energy and his involvement in several activities, DJ Hoang '21 is hard to miss on the campus of Jesuit High School Sacramento.
Perhaps no other activity represented DJ's dedication to the school than joining the Senior Retreat Team.
After the pandemic canceled the freshman overnight retreat and moved the sophomore and junior retreats to Zoom, DJ was determined to provide students with a meaningful experience.
"Leading the sophomore and junior retreats was really difficult because in previous years we did it all at Christ the King Retreat Center, but this year we were on Zoom," DJ said. "I feel like we did the best we could to make the most of what we had. I wanted to do [Senior Retreat Team] because I wanted to give other people a good retreat experience and I like the sense of community that it brought."
Mrs. Kelly Barnes, who's involved in all areas of the Campus Ministry Program, was thankful for DJ's honesty and authenticity as he led retreats.
"One of the gifts that DJ brought to his role on the Senior Retreat Team (SRT) was his willingness to share his own story of struggling to discover and live true to his values," Mrs. Barnes said. "He shared with the retreatants how he chose not to allow early mistakes to define him, and how he intentionally worked to restore his self-respect, relationships, and reputation.
But DJ's work in Campus Ministry went beyond the Senior Retreat Team, he was also on the Campus Ministry Core Team and was a Kairos leader. Through all of his work in campus ministry, DJ is grateful for Ms. Barnes and Director of Campus Ministry Mr. Paul LeBoeuf.
"They always radiate positivity and inspire me and encourage me to do better, and they really helped me grow as a person at Jesuit," DJ said. "[T]hey have been themselves, and that has allowed me to grow as a person."
DJ brought the same level of courage to athletics that he exhibited in campus ministry. After being cut from the JV golf team his freshman year, DJ refused to quit. He practiced hard and made the team as a sophomore.
Fast forward two years and DJ finished up his second and final season on the Varsity team, which made it to the Delta League Championship.
Aside from campus ministry and athletics, DJ is also one of the council members of the Asian Pacific Islander Club. DJ's involvement in so many areas of the school has caught the attention of other students, including classmate Alex Chen '21.
"I truly respect him for being able to balance so much work, and still keeping a warming smile on his face to brighten the mood of others," Alex said.
Reflecting on his time at Jesuit, DJ is thankful for his classmates.
"I am most grateful for my class, we have been through a lot together over the last four years," DJ said. "I really appreciate all of them because we all stuck by each other's side, we had each other's backs."
The school's influence on DJ was just as significant as his impact on the Jesuit community, which is why he plans to attend Santa Clara University in the Fall where he can continue his journey in Ignatian education.