Mr. Kyle Trivits joins Jesuit Community with new insights and perspectives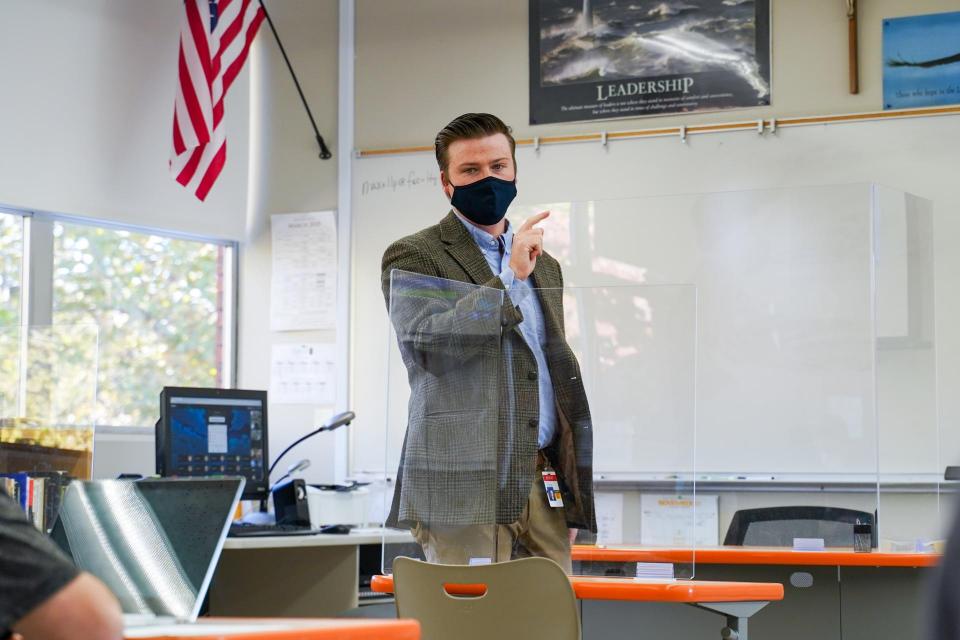 Following a 2019-2020 school year which saw a number of staff and faculty members retire, Jesuit High School Sacramento was in need of new additions to fill vacant positions. One of the many new hires Jesuit made this summer was Mr. Kyle Trivits, who joined the English Department.
Mr. Trivits recently came to the Greater Sacramento Area after his wife, who's from Roseville, wanted to move back home. In New Jersey, Mr. Trivits worked as an English teacher, Head JV Softball Coach, and Assistant Varsity Baseball Coach at Cinnaminson High School.
Before becoming a teacher, Mr. Trivits attended Wheaton College as a student-athlete, playing on the baseball team all four years and coaching the team during his graduate year. At Wheaton, Mr. Trivits earned a BA in English Literature, and an MAT in Secondary Teaching. He also holds a New Jersey Professional Educator License for Secondary English.
In his first few months at Jesuit, Mr. Trivits has enjoyed his experience teaching sophomore and junior English classes.
"The students have been a real joy to work with," Mr. Trivits said. "I feel like I can challenge students and they'll rise to that challenge. I feel like we just have organic discussions and students are interested in what we're reading, I don't have to force them to be interested. So that's been really refreshing as a teacher."
Mr. Philip Nuxoll '83, one of Mr. Trivits' colleagues in the English department, describes his first encounters with Mr. Trivits and is impressed so far.
"He's got off to a very good start with the English department," Mr. Nuxoll said. "As I talk to the other department members we're collaborating and trying to figure out what the curriculum is going to look like, his input has been invaluable so far. He brings a fresh perspective to the essays and literature we've been teaching the past couple of years."
Ryan Cress '22 has also had a pleasant experience with Mr. Trivits during class meetings.
"Class has been good," Ryan said. "He makes it as entertaining as possible. I feel like he's been more relatable."
While he serves as just a teacher at Jesuit, Mr. Trivits believes his coaching experience has helped him improve as an educator.
"I think that all good teachers are coaches in a way, and I think that all good coaches are teachers," Mr. Trivits said. "What a good teacher does is they coach and give feedback and encourage when it needs encouragement and push and challenge when you need to be challenged. You can't just scream all the time because that doesn't work for everybody and you can't just be like 'Hey do what you feel like doing,' you need to kind of get on them. I think that's what a good teacher does. They know what type of feedback to give and when to give it."
Mr. Trivits also believes a crucial part of teaching is receiving feedback from the students he teaches — something that he learned firsthand from playing baseball.
"I asked my class the other day 'What am I doing wrong?' to give them a chance to tell me what they would change about my class," Mr. Trivits said. "That's kind of a dangerous question to ask a bunch of 16-year-old boys, but it's important for me to understand their experience and learn from them. Being able to take feedback is important and I think I definitely learned that from baseball."
As a young, personable, and relatable teacher, Mr. Trivits has gotten off to a great start as one of the newest members of the Jesuit community, and is sure to teach his students many valuable lessons on English literature.