A one of a kind student, Peter Wisner '21 makes his mark on Jesuit High School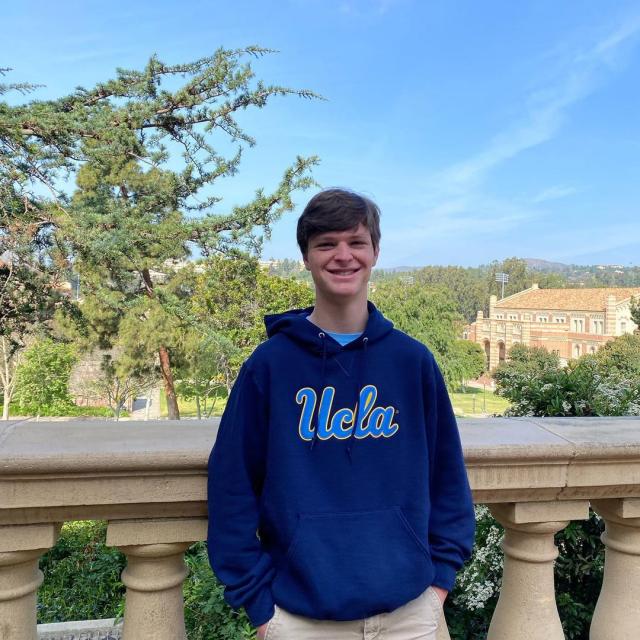 Upon graduation, students at Jesuit High School Sacramento aim to embody the five principles of the Grad at Grad. One of the values, intellectual competence, is something few students personify as much as Peter Wisner '21.
Among the most gifted and accomplished students in this year's graduating class, Peter was named a National Merit Finalist by the National Merit Scholarship Corporation. It's an achievement that's been brewing since early in his junior year when he took the PSAT.
"I took the PSAT junior year and I scored pretty well on it and that qualified me to take another application, which I think I did in September and it had some questions and an essay on it," Peter said. "I wasn't thinking about it too much, I was just going to kind of do what I could and see where things ended up."
While being a stellar student takes hard work, Peter credits much of his accomplishments to his teachers and the rest of the Jesuit community.
"I would attribute a lot of what I've been able to do to the teachers at Jesuit and the community as a whole," Peter said. "I've had so many great teachers, so many favorites that have been passionate about what they were teaching and encouraged me to learn what they were teaching. The community as a whole fostered a passion for learning and achievement. I've had lots of friends that have been there with me."
Along with doing extraordinarily well in the classroom and on standardized tests, Peter has been extremely involved in co-curriculars at Jesuit since he entered high school as a freshman.
"I was told going into high school if I wanted to do something I should try to do it," Peter said. "Freshman year I played some fall lacrosse, sophomore year I played football, last year I did track and this year I'm doing tennis. I've been involved in CSF, NHS, I tried the debate team for a little while, I wrote an article for The Plank one time actually. I've also been involved in Moorings some too."
Peter is also thought of as a person of high character by those who spend time around him. Through his interactions with Peter, Jesuit Principal Dr. Michael Wood '99 testifies to that.
"Overall, he is a person who is incredibly gifted and motivated but from my interaction with him, he demonstrates incredible kindness and humility," Dr. Wood said. "Even with all that he's capable of, he presents himself in a manner that really is humble and kind."
Dr. Wood is also very impressed with Peter's involvement in the Jesuit community and grateful that he's chosen to share his talents with so many others at Jesuit.
"Jesuit High School wants all of Peter's gifts and talents, not just what he does in the classroom, which is incredible," Mr. Wood said. "But that Peter chose to use his gifts to be involved in other areas of the campus is a testament to the person that he is, and for us when someone like Peter gives of themself to the school in such an incredible way, it actually makes us humble ourselves that someone at that level of talent and ability chose to give it all to Jesuit High School is incredible and makes us very proud."
Assistant Principal for Academics Mr. Colin O'Connor '04 remembers being informed of Peter's intellectual skills when he was the English department chair.
"As the English department chair, I did know of his strong ability in his English classes and I heard from his English teachers throughout his time moving through the department [about] how strong he was," Mr. O'Connor said. "He strikes me as humble, kind, and very curious about the world and I'm excited to see and hear about what he's able to do when he goes off to college."
In early April, Peter announced he would take his talents to UCLA and will major in Physics — a decision he's excited about.
"I was fortunate enough to have the opportunity to see a few schools to which I was accepted, and UCLA just felt right," Peter said. "It's also a really good place for me academically, the location is fantastic, and it seems to have a lot of variety when it comes to the student body and all of the activities that go on there. It seemed like the ideal place for me to continue working to become the best version of myself."
While he's been recognized for his intellectual abilities, Peter's impact on Jesuit went far beyond the classroom. As he heads to college next year, Peter looks to leave his mark on UCLA the same way he did at Jesuit.