Raise a glass for Mr. Beers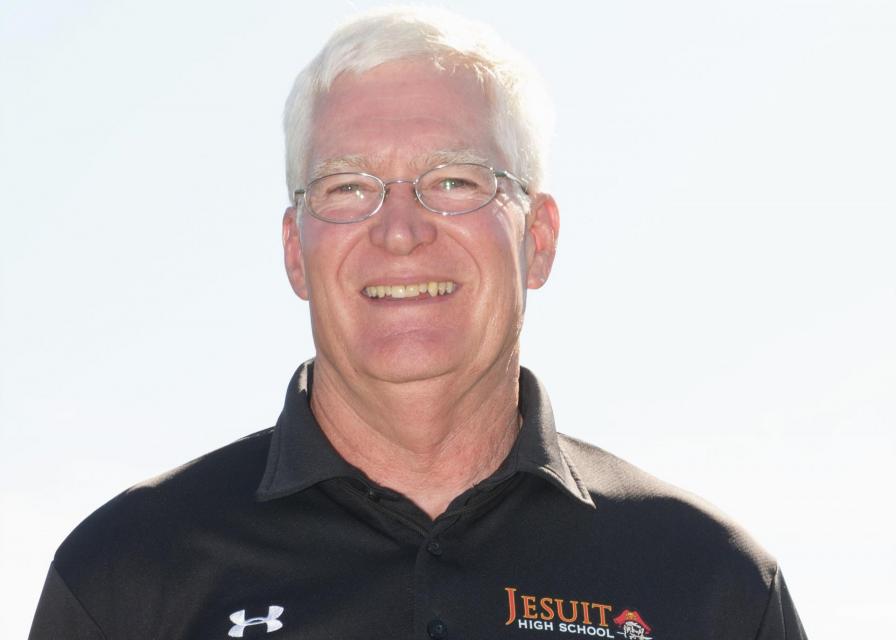 For Jesuit High School Sacramento teacher, Mr. Timothy Beers, 2022 marks the last school year in which he will teach at Jesuit. Mr. Beers' legacy will always be one to remember; he has taught and coached generations of Marauders with pride and passion.

Mr. Beers is a representation of the Jesuit values. In the 38 years of which he has been a teacher, one of his long-time coworkers and friends, Mr. Philip Nuxoll '83, can attest to Mr. Beers' character.
"He's been a father, he's been a teacher, he's been a coach, he's been a moderator, he's led several different retreats, he's kind of the everyman at Jesuit High School," Mr. Nuxoll said. "[He's] oftentimes unseen, but always impactful."
Mr. Beers has contributed so much to Jesuit in his tenure including his ability to demonstrate what it means to be a 'Man For Others.'
Within the 38 years of being a staff member at Jesuit, Mr. Beers has taught seven subjects, including Biology, Geometry, Physical Education, Physics, Earth Science, A.P. Biology, and General Science. He taught Biology for 36 years, Geometry for 18 years, and Physical Education for 12 years.
Even though Mr. Beers has been employed at Jesuit for 38 years, his initial plans didn't envision a long term stay.
"When I first arrived at Jesuit, my plan was to teach and coach here for only a few years, finish my teaching credential, and then move on to a public high school," Mr. Beers said. "However, by the end of my first quarter, I was totally in love with Jesuit. I found the spiritual foundation of Jesuit very fulfilling, and the teachers, staff, and students quickly became my second family."
The Jesuit family is a tight knit community. Coach Joe Potulny '76 has worked with Mr. Beers for many years and mentions how he and other students admire Mr. Beers.
"[He has] high expectations, [he] holds his students accountable while at the same time his students look at him with affection," Coach Potulny said. "For me, he is a legend."
His relationships with students is one of passion and honest spirit. One of his former students, George Anastasopoulos '05, describes his experience with Mr. Beers.
"I was formally introduced to High School Biology in [Mr. Beers'] class, and it's one of the experiences that stands out to me 20 years later," George said. "I can still hear the words 'Miiiisssttteeeerrrrrrrrr' ringing through the quad, followed by a name selected for his patented daily quiz. In class, what you see is what you get with Mr. Beers. All these years later, I appreciate the way he kept engagement high and the learning process fun."
Along with his many friendships and bonds with students, Mr. Beers made sure many of his own children studied at Jesuit. Mr. Beers is a father to five children, four of whom attended Jesuit. Mr. Beers reflects on the details of his family.
"My wife Nancy and I have five children, four boys and one girl," Mr. Beers said. "My three oldest boys are married and have seven children between them. All four of my boys attended Jesuit, three graduated from here, and my daughter graduated from Loretto High School. I'm proud to say that all five of my kids are very successful."
The road ahead for Mr. Beers is family oriented with more involvement at Jesuit, but just not as a classroom teacher.
"For next year, my retirement plans are simple," Mr. Beers said. "I'm going to coach freshman football, my daughter Tracy is getting married on Sept. 4, and my wife Nancy and I plan on spending as much time as we can at our cabin at Lake Madrone. We also plan on spending as much time as we can with our seven grandchildren, and within the next few years, we would like to visit Ireland, cruise the Panama Canal, and check out the fall colors along the East Coast of the U.S."
Mr. Beers is an established teacher, coach, husband, and father that has and will continue to leave a lasting impact on so many marauders.