Technology for the community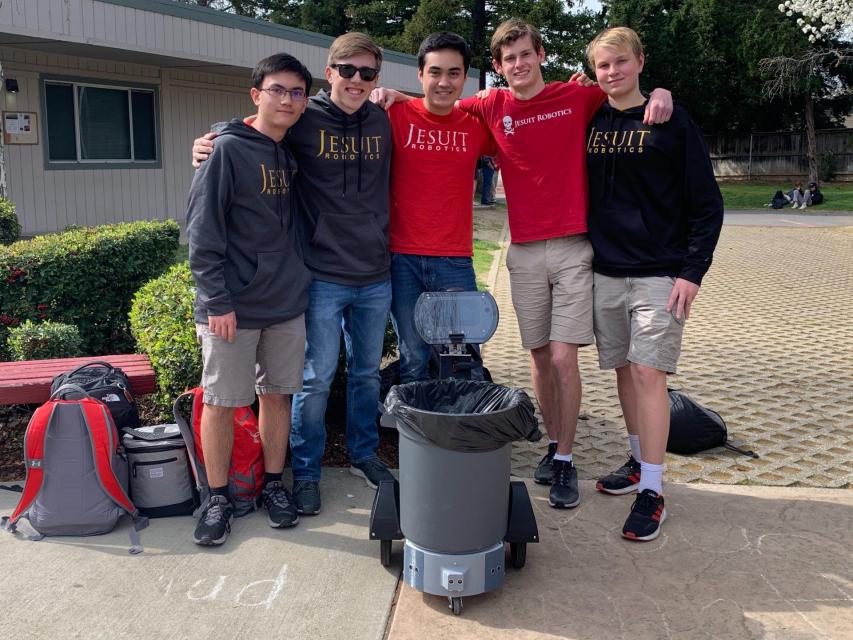 Despite having a beautiful campus, Jesuit High School Sacramento had been seeing a noticeable increase in trash in the months before the school moved to remote learning. To combat the trash dilemma, Michael Equi '20, along with the Bytes Robotics team, worked for months on a new robot called "Garbage Bytes" to serve as a mobile trash can.
Michael, the Co-founder and CEO of Bytes Robotics, originally conceptualized the idea after hearing the student council discuss possible solutions for the trash problem on campus. He sees the robotic trash can as more than a short-term solution, but an innovation for the future.
"Many trash cans blend into the campus, but not Garbage Bytes, making it a strong reminder to encourage people to throw away their trash," Michael said. "I also see Garbage Bytes as about more than just throwing away trash but doing the small things that instill dignity and the culture to later do the more challenging things."
Developing a robot is a lot easier said than done, however. Bytes Robotics faced a number of obstacles and limitations when creating their mobile trash can.
"In order to keep costs down, we are using a common GPS that you might find in your phone, which only has accuracy within a couple [of] meters," Michael said. "Another challenge is keeping costs down and creating what is perhaps the lowest cost autonomous service robot in existence. We are aiming to produce each unit at under $1000 which is much less than comparable hardware platforms used for things such as food delivery."
Despite tight manufacturing costs, production for the robot went smoothly and on February 28, the team debuted the robot on campus. With functional success, the team has developed plans for future endeavors.
"We feel very good about the progress we have made, and we intend to expand our small success at Jesuit into a real-world corporation," said team member Alden Parker '21.
Though in-school sessions have halted due to COVID-19, there have been no breaks for the Bytes Robotics team. The company's other Co-Founder Caelin Sutch '20 explains the newest project for the community.
"The company is developing an autonomous curbside delivery robot," Caelin said. "It uses a predictive algorithm to know when the customer will arrive at the location, and plan with staff accordingly to decrease wasted time."
From keeping Jesuit's campus beautiful to working to make tasks like grocery shopping easier, Michael and his team are utilizing their time and talent for the ultimate good and convenience of the school community and the greater Sacramento area.