Rev. John P. McGarry, S.J. to conclude service as President at end of 2022-2023 academic year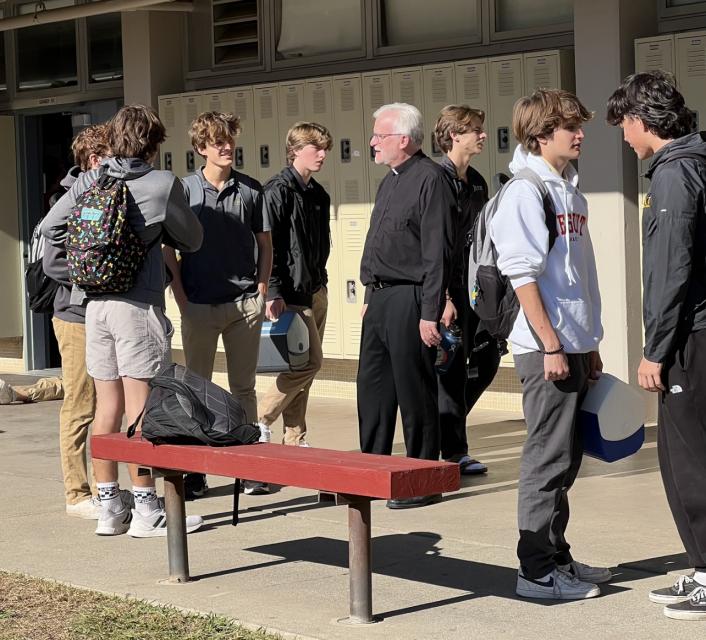 NOTE please see update from January 4, 2023
Jesuit High School of Sacramento President Rev. John P. McGarry, S.J. announced today to the Board of Trustees that he will conclude his service as president at the end of the academic year.
Fr. McGarry is serving in his fifth year after becoming the school's thirteenth president in August 2018. His decision comes with the support of his Society of Jesus religious superiors after long personal reflection on his years of service and through much prayer and discernment.
"I feel blessed to have been able to be part of the tradition of Catholic Jesuit education in the Sacramento region for so many years. As the school moves into its seventh decade of education, it is time for me to prioritize my health and pass the baton to a new president to lead the school through the blessings and opportunities of the years to come," said Fr. McGarry.
Fr. McGarry has served thirteen years overall at Jesuit Sacramento – having been Associate Principal (1997-1998) and Principal (1998-2005). He has 30 years of leadership, administration, and ministry during his 42 years as a Jesuit.
As Jesuit Sacramento's President, Fr. McGarry has overseen the completion of numerous important campus improvements, including the state-of-the-art gymnasium and welcome center renovations. He established a personal goal of substantially increasing the tuition assistance endowment and has outperformed even his own high expectations. Future Marauders will be the beneficiaries of his effective and lasting efforts to help make a Jesuit education possible for all.
"The Board of Trustees is grateful for the incredible dedication to the mission of Jesuit High School that Fr. John has demonstrated during his multiple tenures. His contributions to the mission and culture of Jesuit will be greatly missed and extremely difficult to replace. We are thankful that Father will be here through spring to see off the class of 2023 during Baccalaureate and Commencement." shared Jesuit Board of Trustees Chair Jim Donahue '75.
The Board of Trustees will immediately begin the process of recruiting and appointing a new president by convening a search committee comprised of trustees and other school community representatives. In performing the search, the Board will coordinate with the Provincial of the Jesuits West Province, Very Rev. Sean O Carroll, S.J. The Board will carefully consider only the most qualified candidates for this critical leadership position, hoping to have an appointment at the start of summer.
During this transition, the Board of Trustees and President McGarry have complete confidence that Jesuit will unwaveringly continue its mission with excellence guided by the leadership team comprised of Principal Dr. Michael Wood '99, Chief Financial Officer Anne Long, Vice President for Advancement Maureen Longyear, Assistant Principal of Academics Colin O'Connor '04, Assistant Principal of Student Life Sarah Ruano, Assistant Principal Dean of Students La Roddric Theodule, and Controller Julie Winkleman. As partners in mission, the leadership team is supported by department directors, program chairs, faculty, and staff. Together they are all dedicated to forming competent young men into conscientious leaders in compassionate service to others for the greater glory of God.
###