Faith During COVID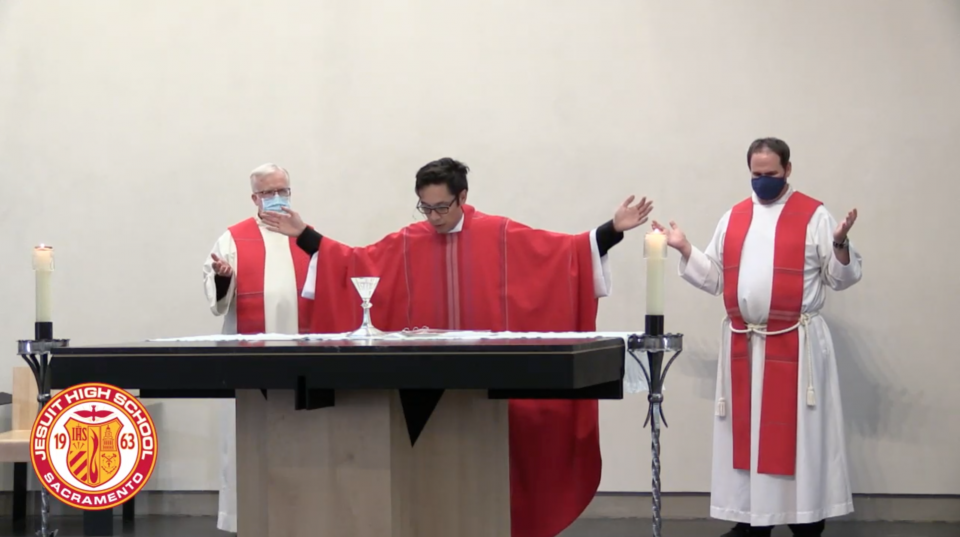 COVID-19 has brought many changes to our daily lives. Everything from attending school to getting groceries has a much different look due to the pandemic. Another aspect that has changed is our ability to worship.
According to California's COVID-19 response, Sacramento's risk level is substantial, which means indoor religious services can occur but with Max 25% capacity or 100 people, whichever is fewer.
With Jesuit High School Sacramento being a Catholic institution, much of the school's community has been affected by these restrictions. Assistant Director of Campus Ministry Ms. Kelly Barnes misses in-person masses for multiple reasons.
"Being able to receive the Eucharist, I really miss that," Ms. Barnes said. "I miss the singing and the way [students] voices fill up the gym and the chapel. For me, it really makes the worship come alive. I miss [students] putting [their] arms around each other. I also miss the sign of peace [and the] sense of worshipping together."
Priest, Junior Varsity Golf Coach, and history teacher Fr. Aaron Engebretson S.J. admits that it's been an adjustment to watch mass online.
"I miss being with people and helping them celebrate Mass," Fr. Engebretson said. "You can go to a church service on the computer or watch it on TV, but you can't get the Eucharist. It's important. The biggest change for me is the practice of the faith becoming very solitary. I don't like not having students on campus. I can't wait for everything to be back to normal."
Luke Savinovich '22 believes there's nothing like an actual church environment.
"Church always felt like a time to reflect," Luke said. "Obviously, you can do that in your room, but church has this whole vibe of calm. It's a holy place. Jesus is there. He's everywhere, but I feel him more there."
While some have expressed negative feelings about online worship, others don't mind it.
"It is so much easier," said Eitan Goore '21. "I don't have to have the stress of getting up and getting out on time."
Eitan did note that it's been difficult "not being in the holy place and not having all the memories associated with that place of worship."
Although churches have gotten creative with how they've held masses during this time with many switching to an online format, it's clear the Jesuit community is looking forward to returning to in-person masses soon.