Jesuit basketball extends perfect season with win over Sheldon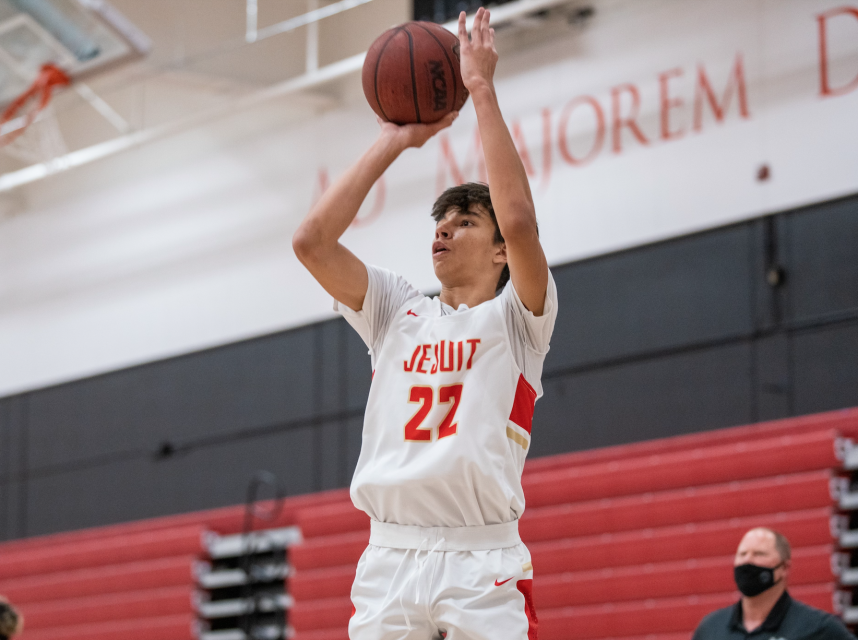 Despite being short-handed due to multiple injuries, the Jesuit High School Sacramento basketball team kept their undefeated record intact by defeating Sheldon High School 53-46 on Thursday, May 6.
Jesuit was led by Andrej Stojaković '23 — the school's only double-digit scorer with 34 points. Andrej also grabbed 13 rebounds and had two blocks.
Andrej wasn't Jesuit's only productive shot-blocker, forwards Gabe Dirksen '21 and Kai Wallin '22 also blocked two shots each.
It was the team's strong defensive effort that guard Jared Manuel '21 believes was the main factor in getting the victory.
"I think a key factor to our win was our energy on defense," Jared said. "We started to build momentum throughout the game through our defense."
Gabe is proud of the way his team battled even though they had a bad shooting night — knocking down only four of 18 shots from three-point range.
"Despite being short-handed we played very well," Gabe said. "We ran the offense nicely and played solid defense for most of the game. I had a poor shooting night but I tried to help the team in other ways, such as defense and moving the ball. That's what's great about this team — we have multiple threats on offense and if one person has a bad night others can pick up the slack."
The numbers back up Gabe's claim as Jesuit has four players averaging more than ten points. The team also has a 10-0 record despite Stanford-bound point guard Isa Silva '21 only playing in half of their games.
Sacramento State-bound guard Chris Holley '21, who has also missed time, will be out for the rest of the season with a fractured wrist.
Jesuit will look to stay undefeated as they go on the road to play St. Mary's High School on Tuesday, May 11. Tipoff is 8 p.m.