Adjusting to the new normal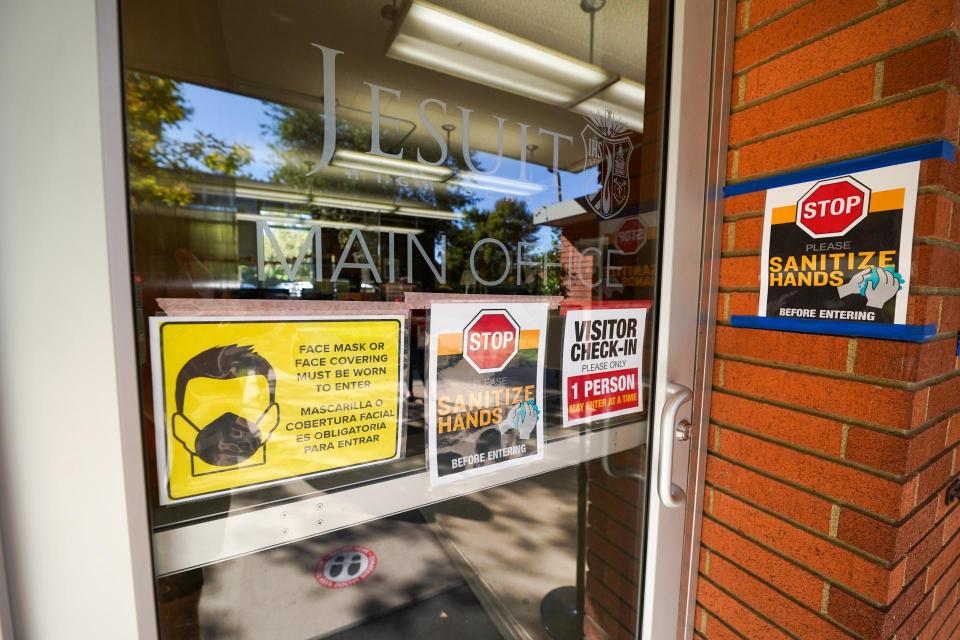 On Oct. 20, Jesuit High School Sacramento reopened its campus with a hybrid class schedule and heightened safety protocols. With so many rules and precautions to follow, students and teachers have had to make adjustments, some finding it harder than others to adapt.
For teachers like Theology Teacher Mr. Michael Cheney, getting used to the hybrid model hasn't been easy.
"The most difficult [part of the hybrid model] is the divided audiences between those that are in class and those that are on distance mode on Zoom," Mr. Cheney said. "It's difficult only because they are not in the classroom and you can do as much as you can to invite them to participate and get them in. I think it is just part of the environment. That's what a teacher is going to need to do. Keep rallying, keep motivating, keep encouraging students on Zoom to participate, be engaged, and socialize with those that are in the classroom."
Spanish Teacher Ms. Teresa Herrera has also found the rules to be a lot to handle.
"I think the toughest is wearing a mask or a shield in my case for so many hours," Ms. Herrera said. "[Teaching in the hybrid model] is getting better and we are getting used to it, but it is still difficult."
However, despite school looking very different, Ms. Herrera commends Jesuit's effort to keep everyone safe.
"The new policies were difficult to follow, so many protocols and protective measures established to protect, keep us safe were hard to keep up with," Ms. Herrera said. "But they were just that, established to keep us safe, so I appreciated our school working diligently to come up with a safe plan. They are now becoming more and more second nature, which eases the burden a bit."
One thing that's been stressed during this pandemic has been the importance of keeping a distance from others. For Gabryel Angelo Palamiano '23, it's been tough having to stand far away from his friends and teachers at school.
"Social distancing, staying 6 feet [is difficult], especially because there are a bunch of your friends at school that you want to hang out with," Gabryel said. "You can't go really near them, "If you need to ask a teacher a question, the teacher and you have to stay 6 feet apart, so it can't be really personal."
While it seems the new protocols have been an adjustment for some, Owen Osborn '22 didn't have much trouble adapting.
"Seeing people in Zoom in class, having both people in person and people on Zoom, having those combined, I think has been pretty easy to adjust to," Owen said.
A change than many feel has made the transition to on-campus learning easier has been the implementation of Mid-Week Support Wednesdays, a multi-purpose day that gives the Jesuit Community a break from screens
"The easiest to adjust to is having less classes per day because then we can focus much more on our lesson planning, lesson delivery," Mr. Cheney said. "Having Wednesdays committed to department business, office hours, and lesson planning and lesson design is one of the easiest parts of our new policies."
Even with so many rules to follow, it's clear that students and teachers are grateful for the school's dedication to bringing back some normalcy with on-campus learning while also working to keep everyone safe.