Jesuit community expresses mixed feelings regarding distance learning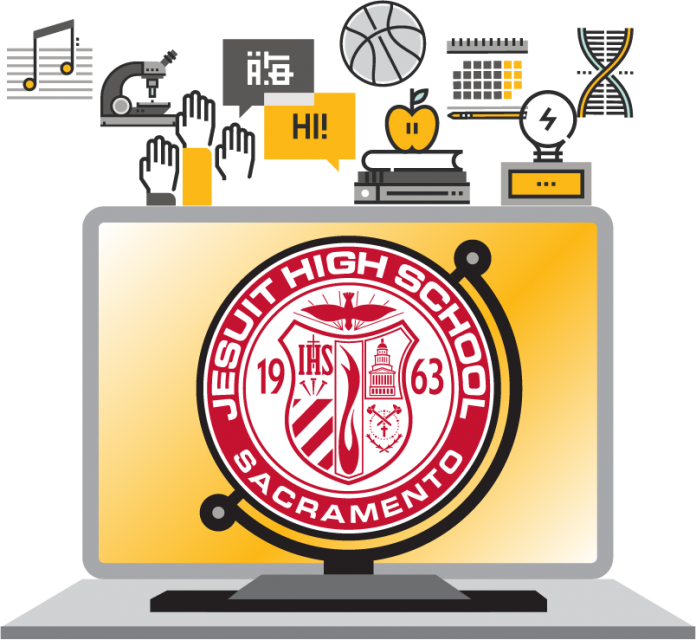 Due to the COVID-19 pandemic, Jesuit High School Sacramento students began the 2020-2021 school year the same way they finished the 2019-2020 school year, digitally.
After learning at home since the week of Aug. 17, students have expressed a multitude of feelings regarding the online academic environment. For Daniel Burky '21, it's the extra sleep and the dedication of his teachers that he appreciates.
"It has definitely been nice for me because I don't have to get up at 6 AM and commute every morning," Daniel said. "A lot of my teachers are doing a really good job. I'm gonna have to give them credit there because it has been pretty easy to follow along with notes and stuff. I think they are doing the best job they can."
But while there are some positives that have arisen from distance learning, there's also a fair share of negatives, especially when it comes to the learning itself.
"I'm definitely getting a lot more work," Daniel said. "I've been staying up a lot later doing homework and it's harder for me to get up in the morning. I think it might have something to do with distance learning or it could be that I have a couple of AP classes."
Evan Templeman '22 has also experienced some difficulties with the new learning format.
"I don't like Distance Learning because I sit in front of a screen all day and I don't like the new schedule because sometimes you could have the same class two days in a row," Evan said. "I don't think it gives us enough time to go over what we learned."
But students aren't the only ones facing challenges brought about by distance learning, teachers have also experienced some hardship during this time.
Physics and Chemistry Teacher Mr. Lawrence Simon '13 has found it difficult to teach tougher concepts over Zoom.
"When it comes to harder concepts, a lot of times I'll make a YouTube video with all the important parts and use class time to fill in the gaps," Mr. Simon said.
As many have expressed a variety of opinions and thoughts on distance learning, Jesuit recently announced that its plan to re-open the campus is on track for the third week of October in an update to students and parents.
The plan will be a hybrid model of in-person and online learning with 50% of the student body on campus for two days each week. Teachers will be teaching simultaneously to the students who are in-person and students who are learning remotely.
So it seems that while Jesuit has hopes of re-opening the campus later this month, students will still be learning digitally, even if it's less frequent like the plan suggests.